Mitutoyo Releases Electronic Gaging Systems and Displays
Suitable for a variety of applications from inspections rooms to production lines, Mu-Checker electronic gaging systems are adaptable for customer demands.
Mitutoyo America Corporation introduces the 519 Series of high-accuracy MuChecker probes and displays. These electronic gaging systems are suitable for a range of applications from the inspection room to production-line integration.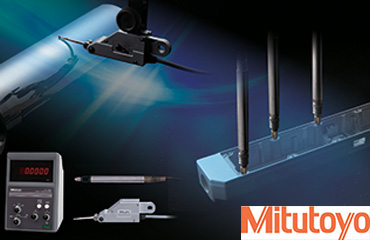 High-resolution lever-head probes allow multi-point measurements of small parts, flatness and straightness measurement on X/Y table, as well as runout measurement of shafts. The cartridge-head type is easily built into equipment due to its slim and compact shape, making it optimal for an automatic measuring machine. Probes are offered with a standard measuring force of 0.2N, or a low measuring force of 0.02N. The low-force style enables soft workpieces to be measured without significant deformation. Optional styli, extension rods and brackets are available.
Both digital and analog display models offer zero setting with the touch of a button. Additional models allow for multi-probe measuring systems.
About Mitutoyo Corporation
Mitutoyo Corporation is the world's largest provider of measurement and inspection solutions offering the most complete selection of machines, sensors, systems and services with a line encompassing CMM (coordinate measuring machines), vision, form and finish measuring machines, as well as precision tools and instruments, and metrology data management software.
Mitutoyo's nationwide network of Metrology Centers and support operations provides application, calibration, service, repair and educational programs to ensure that our 6,500+ metrology products will deliver measurement solutions for our customers throughout their lifetime.
Please visit, www.mitutoyo.com for more information.