MicroMAX Gen 2 from OMAX at EASTEC 2017
OMAX Corporation to show world's most precise abrasive waterjet at EASTEC
Live cutting demonstrations on the MicroMAX Gen 2 will take place in booth 1106 at the manufacturing exposition held May 16-18 in West Springfield, Massachusetts
OMAX Corporation, the world's leading manufacturer of abrasive waterjet systems, will be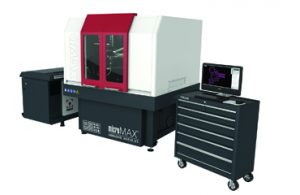 demonstrating its latest generation MicroMAX abrasive waterjet system, capable of a positioning accuracy of less than five microns. The MicroMAX now comes standard with a Tilt-A-Jet cutting head to achieve virtually zero taper.
"Since its introduction, the MicroMAX has offered industry leading part precision," says Michael Ruppenthal, vice president of North American sales for OMAX. "We've engineered our next generation MicroMAX to deliver more capabilities and benefits to our customers. OMAX is always innovating, and we've applied this innovation to the MicroMAX Gen 2, improving the machine's precision, versatility and convenience."
Precision
Contributing to the ultra-high precision capability of the MicroMAX is OMAX's proprietary linear traction drive system that utilizes optical encoders. Protective bellows seal off all precision components inside it and the machine's rigid construction minimizes vibration, enhancing its accuracy. A catcher tank cooling package is now an available option to keep the water at a steady 72°F, preventing the work material from expanding and contracting during machining.
Versatility
Like all waterjets from OMAX, the MicroMAX can machine virtually any material in a wide variety of thicknesses. The cold-cutting nature of waterjet machining means there is no heat-affected zone (HAZ) and therefore no change to the material properties. Waterjets can handle materials that are difficult to cut with lasers and EDMs and make an excellent complement to other machine tools. A Rotary Axis accessory can be added to the MicroMAX for full 6-axis machining.
Convenience
The MicroMAX has a small footprint and a steel, epoxy-coated enclosure with sliding doors for quiet, clean machining. A mobile work station with easy-to-use controller software provides the operator with convenient set-up and monitoring capability.
At the show, OMAX staff will be on hand in booth 1106 to answer questions and demonstrate how the MicroMAX is the ideal machine for prototyping and for production when ultra-precision is a must. For more information on OMAX Corporation as well as its complete selection of abrasive waterjet products and services, please visit www.omax.com.
About OMAX Corporation
Based in Kent, Washington, OMAX Corporation is the owner of the OMAX and MAXIEM brands of abrasive waterjet systems featuring intuitive software, efficient pump technology, and a wide range of accessories. The ISO 9001:2015 certified company designs, manufactures, assembles and tests all waterjet components as a complete system to ensure optimum performance. The company also has the most comprehensive service and support network in the waterjet industry to keep its customers ahead of the manufacturing curve. For more information, visit OMAX.com or connect with the company on Facebook, Twitter, LinkedIn and YouTube.