METHODS EXPANDS FEELER LINE WITH 5-AXIS MACHINING CENTER DESIGNED FOR HEAVY LOADS
Methods Machine Tools, Inc., a leading supplier of innovative precision machine tools, 3D printing technology, automation and accessories, has expanded its FEELER line to include the gantry style FEELER U-800 5-axis machining center, designed for versatile high precision machining of larger, heavy parts.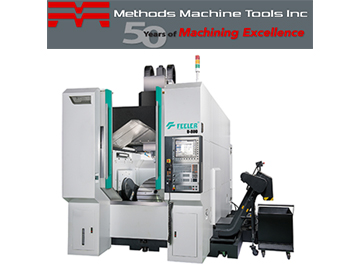 The Feeler U-800 5-axis machining center is designed with a gantry-type structure that allows large workpieces to be loaded and unloaded with ease. The gantry structure, together with an advanced U- shaped base and column, increases structural rigidity, ensures high machining accuracy and exceptional surfaces finishes.
The U-800 is equipped with a HSK-63 27 HP 12,000 rpm DDS spindle for fast, efficient high-speed machining and features a Heidenhain TNC-640 Control and linear scales on 3-Axes. The trunnion is solidly built by LCM with a 31.5″ dia. by 24″ work envelope and a weight capacity of 2,600 pounds. The tilting A axis has a full +/- 120 degrees of motion.
A servo-driven 32 tool carousel ATC provides fast, smooth tool changing. Other features include linear guideways on the X and Y axes; boxways on the Z axis; and linear glass scales on the X, Y, Z, A and C axes for high accuracy and repeatability. These features, in addition to the direct drive spindle, spindle chiller and auto lubrication are all furnished standard in the Feeler U-800.
"The U-800's gantry type structure, together with the U-shaped base and column, brings structural stability to a new level in the high precision 5-axis machining of heavy parts," said Dale Hedberg, FEELER Product Manager at Methods Machine Tools, Inc.
FEELER machines are manufactured by Fair Friend Group (FFG). Established in 1979, FFG is one of the world's largest machine tool builders and has major manufacturing operations in Taiwan, China, Japan and the U.S.A. FEELER is known for rigorous quality control and has invested significantly in highly advanced manufacturing equipment and research and development.
All FEELER machines include extensive design and engineering by Methods Machine Tools, and are backed by Methods' application expertise, support and extensive network of technology centers. The full range of FEELER machines encompasses Vertical Machining Centers, Turning Centers, Vertical Turning Lathes and Bridge / Boring Mills.
About Methods Machine Tools, Inc.
Methods Machine Tools, Inc., in operation for over 55 years, is a leading supplier of precision machine tools, 3D printing solutions, automation and accessories, providing extensive applications engineering support, installation, parts, service and training through a network of large state-of- the-art technology centers and dealers throughout North America.
For more information, visit www.methodsmachine.com.