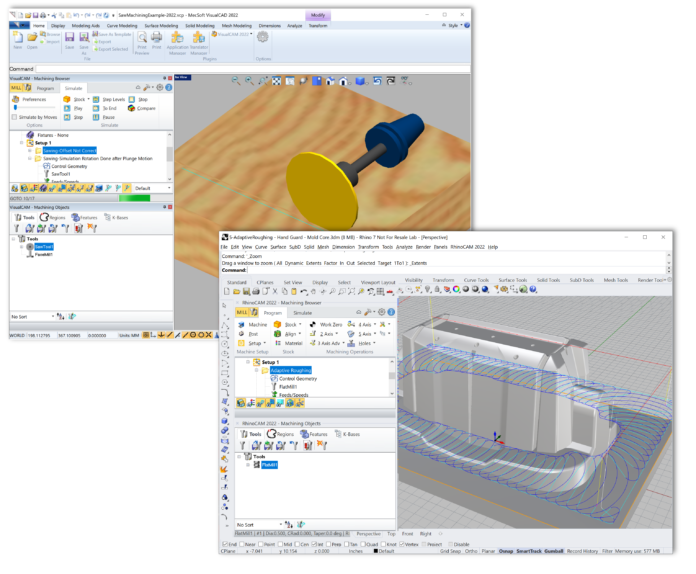 MecSoft Corporation, the developer of industry-leading CAM software solutions, has announced the availability of RhinoCAM 2022 and VisualCAD/CAM 2022. RhinoCAM 2022 is the latest version of MecSoft's fully integrated Computer-Aided Manufacturing (CAM) plug-in for Rhino 6 & 7. VisualCAD/CAM 2022 is the completely independent CAD and CAM solution from MecSoft.
Release highlights include:
New Saw machining operation
Enhanced Adaptive Roughing module
Upgraded and enhanced 4 Axis machining methods
Milling tool holder definition for display and collision checks
Integration of Post and G-code in the operation tree in the part file
Programmable post-processors employing the Python programming language
Expanded RhinoCAM SDK for automating machining
Other Productivity and User Interface enhancements
Additional enhancements to the G-Code editors & Profile Nesting modules
Free demo software downloads of RhinoCAM 2022 and VisualCAD/CAM 2022 can be requested here.
About MecSoft Corporation
Headquartered in Dana Point, California, MecSoft Corporation is a worldwide leader in providing Computer Aided Manufacturing (CAM) software solutions for the small to mid-market segments. These solutions include products VisualCAD/CAM®, RhinoCAM™ and VisualCAM for SOLIDWORKS®. These software products deliver powerful, easy-to-use and affordable solutions for users in the custom manufacturing, rapid prototyping, rapid tooling, mold making, aerospace, automotive, tool & die, woodworking, and education industries.
For the latest news and information, visit mecsoft.com or call (949) 654-8163.