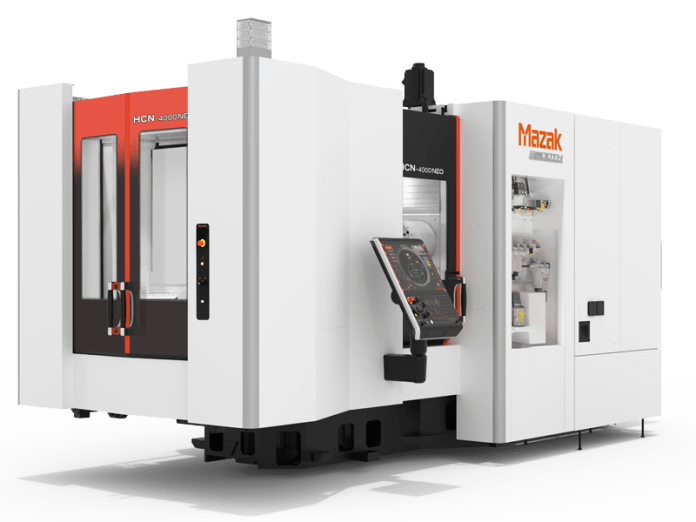 Mazak demonstrated the next-generation productivity of the HCN-4000 NEO Horizontal Machining Center at DISCOVER 2023. For maximum productivity with virtually any workpiece material, the machine features a spacious work envelope, generous pallet size, fast rapid traverse rate and five rigid, reliable spindle options.
For unattended high production, the automation-ready machine accepts an optional 6-pallet changer, PALLETECH or MULTI PALLET POOL (MPP) system and external robot. A standard 40-tool magazine keeps the machine supplied during extended machining, with larger-capacity options available, including 60, 80, 120 or 160-tool magazines, or a TOOL HIVE with 240 or 348 tools.
The 15.75″ (400 mm) tapped pallet is available with an optional edge locator and center bore. Additional pallet options include 19.69″ (500 mm) and 24.80″ (630 mm). Four taper cones provide 16,456 lbs (73.2 kN) of force to clamp the pallet and table for stable heavy-duty machining. With only 15.55″ (395 mm) from pallet center to front cover surface, the machine provides excellent accessibility for convenient setup. The setup station indexes by 90° for easy workpiece loading/unloading and setup.
Ample axis travels measure 22.05″ in X and 25.20″ in Y and Z (560 mm x 640 mm x 640 mm), with a rapid traverse rate of 2,362 ipm (60 m/min). The machine accommodates parts up to 24.80″ (630 mm) in diameter and up to 35.43″ (900 mm) in height.
The machine's MAZATROL SmoothG CNC provides 4-axis speed and precision, with a touch screen that operates like a standard mobile device. The control makes it easy to generate programs for processing complex parts through off-centerline machining as well as angled drilling, milling and tapping, with full support for MAZATROL conversational programming and G-code.
Direct transmission of driving power to the HCN-4000 NEO's rotary table axis eliminates inefficient power transmission components such as the worm shaft and the worm gear. Designed for sustainability, the machine consumes less power, extends coolant service life, limits coolant changes and simplifies maintenance.
Every aspect of the HCN-4000 NEO powers through machining with updated design features that enhance performance. The three-point leveling bed eases installation. Linear roller guides provide high accuracy and heavy-duty machining to reduce non-cut time. For exceptional surface finishes and optimal tool life, the integral spindle/motor minimizes vibration, even at high speeds. To protect the spindle from thermal change, temperature-controlled cooling circulates around its bearings and headstock.
About Mazak Corporation
Mazak Corporation is a leader in the design and manufacture of productive machine tool solutions. Committed to being a partner to customers with innovative technology, its world-class facility in Florence, Kentucky produces over 70 models of turning centers, Multi-Tasking machines and vertical machining centers, including 5-axis models, Hybrid Additive processing machines and Swiss Turning Machines. Continuously investing in manufacturing technology allows the Mazak iSMART Factory™ to be the most advanced and efficient in the industry, providing high-quality and reliable products. Mazak maintains eight Technology Centers across North America to provide local hands-on applications, service and sales support to customers.
SUBSCRIBE to our Complimentary Publications: