LumaSense Introduces ThermalSpection 724 Infrared Camera for Automated High-Voltage Equipment Monitoring
Automated, continuous thermal and visual monitoring of electric grid substations and critical industrial assets for early fault detection
LumaSense Technologies, Inc. introduced the next generation ThermalSpection 724 substation asset monitoring system that includes a hardened enclosure with thermal and visual imagers mounted on a pan-tilt positioner. An essential part of the upgraded system includes new interfaces to easily automate data collection and analysis. Hardware updates include a higher resolution infrared camera with a powerful lens.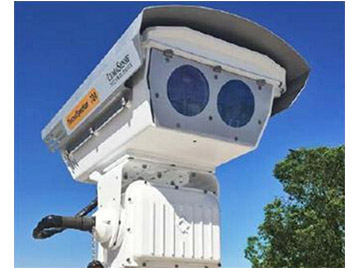 "The use of thermography is a well proven technique for detecting faults in electrical equipment, but manual and periodic inspections have limits. They are expensive, prone to error and results are highly variable depending on load and weather conditions. But the biggest problem is finding time or people to interpret the results of the manual inspections. Electric utilities need a more data-driven method and we've taken feedback from industry to develop an infrared camera system specifically designed for automated analysis of electrical equipment," explained Lenny Shaver, Sr. Director Product Management.
The new design incorporates a 640 x 480 pixel infrared camera with a telephoto lens. These work together enabling the system to detect problems sooner and at a greater distance. Included in the system is a stainless steel junction box and connection cables enabling quick field installation. LumaSense also offers a field hardened controller or users can deploy the control software on their own systems. LumaSpec RT software that is included allows users to define automated "inspection tours" of the substation or industrial setting. The system can be expanded with optional fixed thermal imagers and fixed single point infrared pyrometers for monitoring assets not within the view of the ThermalSpection 724 pan-tilt (TS724DV-PT) camera.
Two primary paths for data analysis are supported. One is to publish the measurements to the user's data historian using standard protocols. The second is new software called LumaTrend that archives the measured data and images in a Microsoft SQL database. LumaTrend analyzes that data over time using built-in industry standard analytics to help provide early detection of problems and can use the images to create time-elapsed video (both infrared and visual) of the equipment monitored. This software can help identify transient thermal events not detectable with manual inspections. Along with authenticated web browser access, users can receive email notifications for reports, alarms, and warnings.
"The improvements to this trusted thermal imaging solution help our customers detect faults and temperature anomalies more quickly," said LumaSense CEO Steve Abley. The next generation ThermalSpection 724 system is useful for monitoring critical industrial equipment and electrical substations switchgear components, such as transformers, bushings, busbars, breakers, capacitor banks and disconnects.
About LumaSense Technologies GmbH
LumaSense Technologies, Inc.® is one of the world's most trusted providers of innovative temperature and gas sensing devices. By applying LumaSense's proven systems and software, customers in Global Energy, Industrial Materials, and Advanced Technologies markets are able to reduce waste and inefficiency in their processes.
For more information about LumaSense Technologies, visit www.lumasenseinc.com.