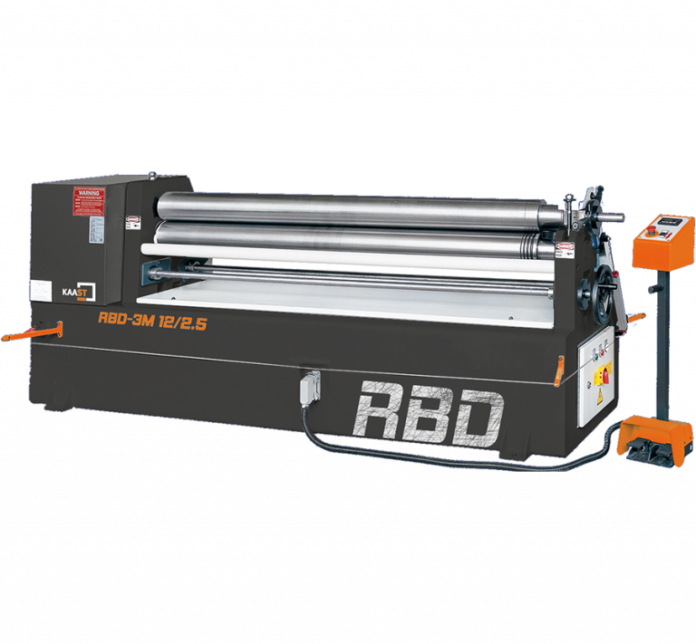 KAAST Machine Tools, Inc. is proud to present a diverse lineup of plate rolling equipment. Occasionally referred to as "roll bending machines" or "plate bending machines", plate rolls are ideal for turning sheet metal into cylinders or radiused parts. The common use for plate rolls is rolling large quantities of cylinders over the course of a single day, although they can also roll coninical shapes by tilting the rollers or using conicical shaped rollers. KAAST offers five models of plate rolling machines; the RBD-3M, the RBD-3HL, the RBD-4H, the RBD-4HD, and the RBD-4HL.
The RBD-3M is a plate roll series designed for light to medium jobs, accommodating materials up to 10 gauge in thickness. Applications include creating aluminum bendings, air conditioning channels, advertising panels, and sheet metal covers. This series of plate rolls is offered in 3'-6' length and features top rolls fixed via a locking lever, with adjustable side and bottom rolls. Each model includes wire grooves on the bottom rolls and left-right rotation on the dual footswitch.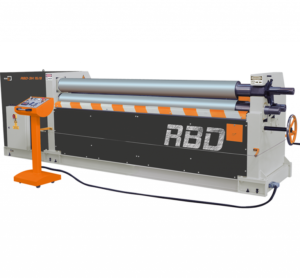 The RBD-3HL plate roll series is intended for medium and heavy bending tasks. The frame is constructed of solid, welded steel, with all rolls mated to high quality, heavy duty bearings, ensuring minimum friction and even rotation throughout the bending process. The hydraulic rollers are driven by independent drive motors and planetary gearboxes. Available lengths are 6'-13' and can accommodate plate thickness between ⅛"–⅝".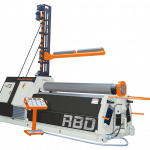 The RBD-4H series rollers are heavy-duty plate rolls, accommodating the needs of a variety of businesses, including shipbuilding, trucking, wind-power, and construction sectors. The 4 rolls of this hydraulic plate bending machine are equipped with high-quality, heavy-duty ball bearings, ensuring minimum friction while assuring even rotation of the rollers. The RBD-4H series accommodates 14 Ga 3/8" plate thickness and is available in lengths between 2'-13'.
The final series of plate roll available from KAAST Machine Tools, Inc. is the RBD 4HD/4HL hydraulic plate bending machines. These state-of-the-art bending machines are ideal for medium and heavy bending tasks, featuring a solid, welded frame, a hydraulic roller driven by an independent drive motor and planetary gearboxes. Torsion bars work simultaneously with hydraulic units to ensure maximum machining accuracy, while accommodating production flexibility. The RBD-4HD/4-HL is available in lengths between 6'-13' and accommodates workpieces between ½"-13/4".
About KAAST Machine Tools, Inc.
KAAST Machine Tools is proud to provide one of the most diverse and extensive line ups of machine tools in the industry. From mills and lathes to grinders and saws; from brakes and rolls to presses and ironworkers, KAAST makes it easy to find the right machine for your application.
We stand behind our machines with quick shipping of spare parts and excellent after-sales service. Need in-person training or installation? No problem! KAAST Machine Tools is your production partner.
SUBSCRIBE to our Complimentary Publications: