HWACHEON'S NEW C1 MULTI-PROCESS TURNING CENTER
Hwacheon Machinery America, Inc. is revolutionizing the industry with its C1 Multi-Process Turning Center. Half turning center, half machining center (Y- and C-axis control), the C1 can completely manufacture parts with complicated shapes in a single chucking operation.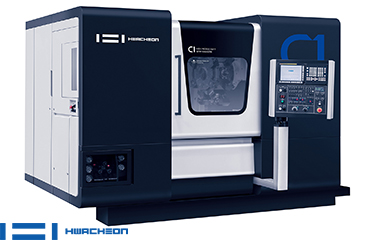 The C1 processes not only with ease, but also with maximum efficiency. Engineered with a triple stack turret with a tool changer, it holds up to 36 tools and increases productivity. A multitude of tools allows for the precise machining of complex parts with drastically reduced setups, enables multiple jobs to be tooled up and is ideal for short run jobs.
The product is also engineered for accuracy. Designed to minimize thermal displacement, the arrangement of units in the heat-symmetrical structure provides superior thermal stability. Hwacheon's original cooling system ensures that the rotary tool module inside the turret maintains exceptional processing quality, even during prolonged operation. In addition, the independent orthogonal structure of X, Y and Z-axes reduces feed error to zero for high rigidity and precision, even during prolonged processing.
The C1 swing over bed diameter is 28.74", maximum cutting diameter 20.88", maximum cutting length 23.58" and maximum spindle speed is 6,000 rpm. A range of options are available, including an automatic tool presetter and a second spindle.
About Hwacheon
Huachen has been a growth in the last 60 years, machine tool specialist since 1952 as a company that has such a modern baljeonsa with the flow of the Republic of Korea founded.
This is in the Hwacheon employees who personally practice the values of the Hwacheon of patience, sincerity, honesty and customer I think it was thanks to your continued support. Hwacheon will always pursue "quality First" to think the quality as the top priority in the customer's perspective. In addition, Huachen products virtuous enemies of the VALUE to one based on the craftsmanship, the product Horn (魂) is contained, provide the VALUE (value) rather than as a mere products to our customers, and through it, customers create VALUE again It seeks to create. further creative culture through communication and sinbaram I work'll compositions create an innovation made the organization constantly to transform into an open and flexible organizational culture. to create both better business results with creativity and enthusiasm of individuals and Hwacheon and will ever achieve customer growth and development.
 
For more information visit www.hwacheonusa.com.