Fronius presents the greatest possible protection from welding fumes and is more than just compliance with standards. Going beyond the standards shows companies take responsibility for their welding specialists, and everyone working in their immediate vicinity. To assist, Fronius is launching the user-friendly Exento extraction welding torch and two mobile, high-performance Exento extraction systems as effective protection against welding fumes.
These new extraction solutions are a perfectly coordinated duo, consisting of the ergonomically designed Exento fume extraction torch and the compact, mobile high-vacuum extraction system Exento HighVac. This combination is particularly effective for MIG/MAG welding, removing welding fume as soon as it is created. Thanks to the high-quality filter, the Exento HighVac mobile extraction system eliminates more than 99.9 percent of the captured welding fume particles.
The Exento LowVac is a low-vacuum extraction system suitable for all welding processes, such as MIG/MAG, TIG, and MMA, with an impressive flow-optimized extraction hood design. As a result, significantly less extraction arm tracking is required than with conventional systems.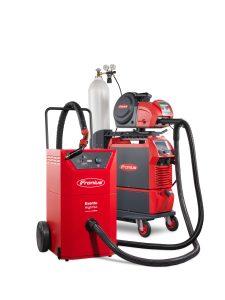 The new fume extraction torch – powerful, manageable, and individual
With the newly designed and EN ISO 21904-1-compliant Exento fume extraction torch, welding fume is captured with pinpoint accuracy, before it can spread. In the design phase, our development team paid particular attention to optimal ergonomic design and easy operation. For example, the desired extraction level can be controlled directly on the handle with a bypass valve. Rubber inserts ensure a non-slip grip, and the included LED lighting proves useful when welding in dark areas, and for quality control. With three different choices of user interface, from a torch trigger on the top to an up/down rocker and the JobMaster, there is a torch type for every welder. The torch also offers significantly more freedom of movement while welding through the use of the ball joint that attaches it to the 1.3 meter long, leather-protected hose.
Exento HighVac – mobile and compact extraction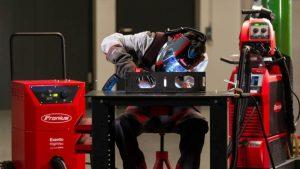 In combination with the fume extraction torch, the new Exento high-vacuum extraction system demonstrates its power where continuous performance is required to remove fumes and dust. With a footprint of just 60 x 60 centimeters, and an operating radius of 360 degrees, it is a flexible powerhouse that can be used wherever it is needed. The integrated side-channel compressor allows an extraction capacity of up to 170 m³ per hour, and the vertically mounted filter cartridge ensures particularly effective cleaning. To ensure maximum ease of use, we included features such as the single button operation and the stepless pre-selection for power levels. Program selection is possible in next to no time, even while wearing gloves.
The new Exento fume extraction torch and the Exento HighVac extraction system are a perfect match and achieve excellent results. Nevertheless, the high-vacuum extraction system can be combined with other fume extraction torches.
Exento LowVac – versatility in action
Whether MIG/MAG, TIG, or MMA welding: this compact, mobile, low vacuum extraction system is suitable for all common welding processes. Exento LowVac is the right choice for wherever fume extraction torches cannot be used. Its highlight is the 360-degree rotatable extraction hood with throttle valve with optional LED lighting. Equally remarkable is the large, standard 25 m² filter area of the disposable filter, which can be upgraded to 42 m² if required. The robust and stable design makes the Exento LowVac the perfect companion when frequent workplace changes are needed. Thanks to the high capacity and the long service life of the filter, the system is also extremely cost effective.
The Fronius team is also looking forward to demonstrating the Exento extraction systems and numerous other Fronius innovations for you this September at FABTECH in Chicago, Booth B27027 or at the SCHWEISSEN & SCHNEIDEN trade show in Essen, Germany, Hall 3, Stand 3B55.
SUBSCRIBE to our Complimentary Publications: