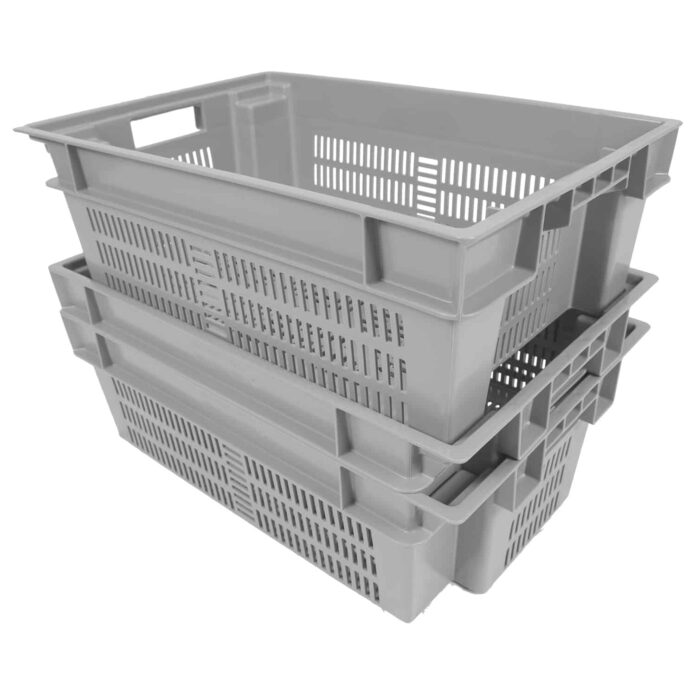 Flexcon Container unveiled its new Quick-Drain Tote for the first time at Modex 2022. This unique patent-pending design finally made its way to the industrial stage in a big way at Modex 2022. What makes this tote unique is that it is as strong and durable as most other ASRS totes and it protects its contents, BUT it also is over 30% vented. This venting allows water to escape at a rapid rate — a huge plus for fire suppression. Many have dubbed it "The Sprinkler Tote".
Quick-Drain Vented Tote
Flexcon held a press conference on Wednesday, March 30 at its Booth to demonstrate this breakthrough technology. Flexcon's Justin Beckerman, the project's lead engineer and co-author of the patents, was on hand to answer questions.
Flexcon helps make carousels, ASRS, VLMs and virtually any form of automation, storage and production system better by providing the ideal containers, dividers, pallets and bulk boxes to protect the end users' products throughout their supply chains. They work closely with their clients to help optimize their operations by focusing on space efficiency, functionality, aesthetics and cost. Flexcon has been supplying these solutions for over 50 years and is proud to have over 70% of the Fortune 500 Companies as clients.
About Flexcon
Flexcon Container, Inc. is a leading American manufacturer and provider of totes and containers for manufacturing, distribution and warehousing applications. Flexcon provides industrial material handling containers, divider systems, totes, bulk boxes, bins, trays and plastic pallets for ASRS systems, VLM / vertical lift modules, carousels, conveyors, shelving & almost any need. In business for over 50 years, Flexcon's materials include corrugated plastic, molded plastic and fabricated totes bins & trays. Styles include: stackable, nestable, automated storage trays, cases, dollies, bakery trays, Industrial totes, postal totes, attached lid containers, ALC, conductive, ESD bins, insulated shippers, molded hopper bins, warehouse bins, collapsible bins, recycle containers, VLM dividers, miniload totes, fiberglass containers, produce. food, beverage, agricultural, poultry, totes, vented bins, RSC, mailers, pallet sleeves, dunnage, placards, label holders and much more.