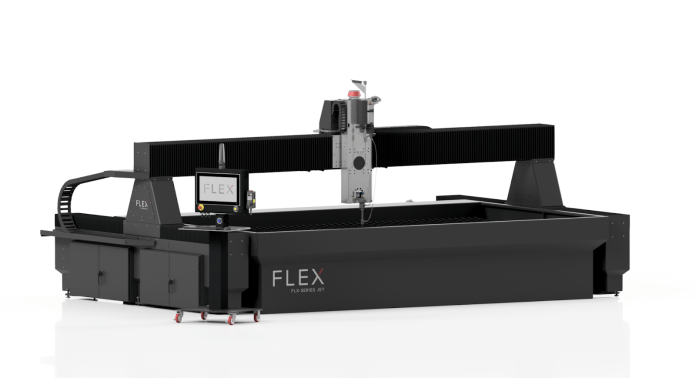 Flex Machine Tools is excited to announce the launch of its newest waterjet cutting system, the FlexJet FLX. This innovative machine is designed to meet the demands of even the most discerning manufacturers, offering superior performance, service, and innovation.
The FlexJet FLX is a gantry machine with two-piece construction, resulting in a robust and reliable machine that outperforms the competition with higher maximum rapids and travel speeds. This quicker motion allows for a decrease in cycle times, translating into significant productivity gains.
In addition to its superior performance, the FlexJet FLX is also extremely user-friendly. The powerful software is flexible and adaptable to the user's needs, allowing them to work how they want, when they want, while still offering simplicity like art-to-part programming. This makes it easy to get started with the machine and produce high-quality parts quickly and efficiently.
One of the key features of the FlexJet FLX is its 5-axis head its the first of its kind. The design uses a real 5-axis instead of a focal point design for advanced taper control. Equipped with an infinite C-axis, there are no limitations on the travel or the number of rotations it can handle, with no rewinding required. The 5-axis head automatically tilts to compensate for stream lag and kerf taper errors, resulting in tight tolerances and fast cutting speeds. New advanced technology makes tangential following possible, resulting in faster, more accurate cuts. The advanced degree of tilt on the 5-axis head lets you go beyond cutting bevels. The head allows for a degree of tilt up to ±120° for advanced 3-dimensional cutting abilities.
Flex Machine Tools knows that service is everything and is committed to providing its customers with the best possible support. With a nationwide network of service engineers and a team of seasoned professionals, Flex is ready to deliver solutions and minimize downtime quickly and efficiently. Comprehensive maintenance packages are also available to ensure the equipment remains at its best.
SUBSCRIBE to our Complimentary Publications: