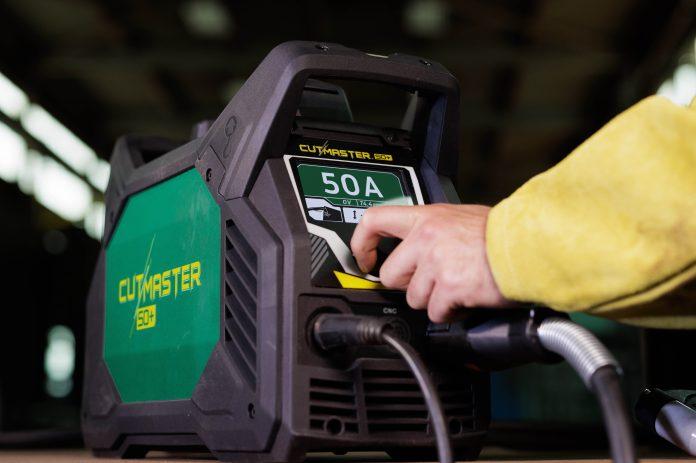 ESAB announced its new Cutmaster 50+ total portable plasma cutting package. Cutmaster 50+ has a recommended pierce and cut capacity of 5/8 in. and severs metal up to 1 ¼-in. The Cutmaster 50+ has a rated cutting output of 50A at 60% duty cycle, weighs 35.3 lbs. and is available in 110V – 240V 1ph and 480V 3ph primary power versions.
"The Cutmaster 50+ is an extension of the Cutmaster+ lineup, signified by the 4.3.-in. TFT LCD display, which we paired with a glove-friendly knob for selecting and setting parameters," says Kris Scherm, a Global Product Director with ESAB. "In addition to all the great features of the Cutmaster 30+, Cutmaster 50+ has a built-in 14-pin CPC port for easy CNC mechanization without extra hardware, and it has more power."
For mechanized straight line cutting and gouging applications controlled with a simple start stop switch, the ESAB MechPak includes a 180-degree ("straight") torch and all required hardware to allow precision setup and control for many semi-automated applications. The MechPak is compatible with all Cutmaster plasma systems with an ATC-style torch connection
Cutting Control
Cutmaster 50+ features include normal and grate cutting mode, automatic inlet/outlet air pressure detection, automatic post-cut air purge to extend consumables life and an automatic voltage detection function, which sets maximum output amperage based on primary power to optimize cutting performance.
With its three-handle design, Cutmaster 50+ provides portability, protection, and convenient cable organization. Its IP23S housing handles rugged environments, making the unit suitable for industrial and general fabrication, light fabrication, industrial production and manufacturing, automotive bodies, agricultural equipment, HVAC, repair/maintenance, pipeline and training schools.
Cutmaster 50+ plasma cutting package comes with the proven SL60 1Torch™. Operators can select 2T (standard mode) or 4T (trigger latch) modes on the LCD display. The 4T mode allows the operator to press and release the trigger and cut without holding the trigger, reducing hand fatigue on long cuts. The torch also features a "double-tap" trigger; tapping the trigger twice shuts the gas solenoid valve, extending the cutting time when using small portable cylinders of compressed air or nitrogen.
"Together with the SL60 1Torch, it all adds up to the total plasma cutting package," says Scherm. "Cutmaster+ is our most user-friendly system ever."
About ESAB
ESAB is a world leader in fabrication technology. For more than 100 years ESAB has transformed industries built by fabricators, providing complete workflow solutions through our diverse portfolio of products from more than 40 of the most trusted brands in welding and cutting in the world. From industrial demands to repair and maintenance, innovators that shape the world, rely on ESAB's portfolio.
SUBSCRIBE to our Complimentary Publications: