Slick Grip™ Nitrile Double Coated Gloves
Versatile, Waterproof with Fantastic Gripping Power!
Galeton, a leading supplier of quality work gloves and personal protective equipment, has recently introduced the #12835 Galeton Slick Grip™ Nitrile Double Coated Gloves.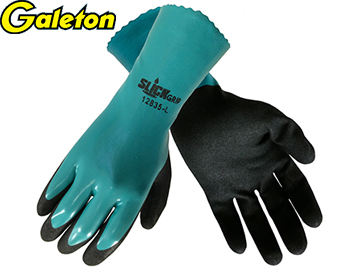 Slick Grip™ Nitrile Double Coated gloves are fully waterproof and provide resistance to solvents and chemicals. A special micro-textured, non-slip grip finish allows for dexterous superior grip in oily and wet applications. This outer layer of non-slip grip is only applied to the palm side and fingertips where it is most needed and so that flexibility maximally enabled. The inner layer of smooth nitrile coating covers the entire glove for 11 inches of liquid protection.
These gloves are ideal for industrial painting, cleaning, automotive use, farming, gardening, pest control and landscaping.
About Galeton
Since 1908, Galeton has been a leading supplier of fine quality work gloves and personal protective equipment at great prices for manufacturing, commercial industry, construction, contractors, as well as federal, state and local government facilities. Built around its unique product line and legendary customer service, the company continues to expand to meet the growing needs of its customers.
The Galeton catalog and website offer a wide variety of work gloves ranging from premium quality to economy plus a broad selection of exclusive brands and unique products.  The expansive offering also includes rainwear, high visibility work wear, work boots, disposable apparel, safety glasses, hard hats, respiratory & hearing protection, as well as other personal protective equipment all designed to help keep the worker safe, comfortable and productive on the job.  
Shop the easy-to-use website at www.galeton.com.