DALLAS INDUSTRIES TO FEATURE A COMPLETE PRESS FEED LINE AT FABTECH 2016

Dallas Industries, a leading manufacturer of press feed equipment will feature a complete press feed line at FABTECH 2016 Booth C17028, November 16-18, 2016, Las Vegas Convention Center. In a unique presentation, Dallas will team up with Aida-America to display a fully operational press feed line with an Aida DSF-N2- 3000 330-ton servo press. The line will run from the Dallas booth into the Aida booth.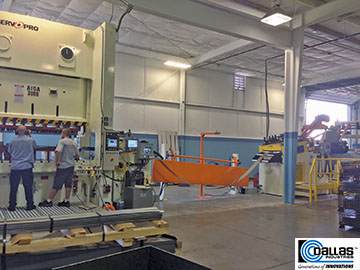 The exhibit will present a complete Dallas line including reel, straightener and feed. The Dallas feed line will feature an Allen-Bradley, Ethernet-based controls architecture that supports many advanced features. This includes Dallas' unique ProfileSelect software which uses a sinusoidal profile (cam motion), providing a smooth motion and material feed, utilizing 100% of the press feed window while putting less stress on the material and mechanics. SyncLoop advanced loop control integration will also be featured. These features, within the time-based Allen-Bradley controls platform, are ideally-suited to servo press applications.

About Dallas Industries
There's a certain magic to innovation but there's also a reality. It has to be nurtured over the long haul. At Dallas Industries we've been successfully nurturing innovation for generations, creating flexible press feeding and coil handling systems for over 50 years. During the initial years we produced state-of-the-art air feed equipment. Soon thereafter, we began developing an innovative new technology — servo driven press feed systems. Over time, our product line came to include a variety of coil straightening and handling equipment.

Today our products include both air feeds and servo feeds, pull-thru and powered straighteners, single and double end coil reels, load cars, coil cradles, threading tables, coil threading/restricting devices plus a host of other options. We design and manufacture many innovative and flexible systems, including our unique SpaceSaver™ lines which can cut floorspace requirements by 50%!

Whether you are looking for new or refurbished equipment, help with installation, line start-up, troubleshooting or maintenance services Dallas has you covered with outstanding factory support along with sales representatives located throughout North America. Generations of Innovation — to help you grow.
For more information, please visit www.dallasindustries.com.