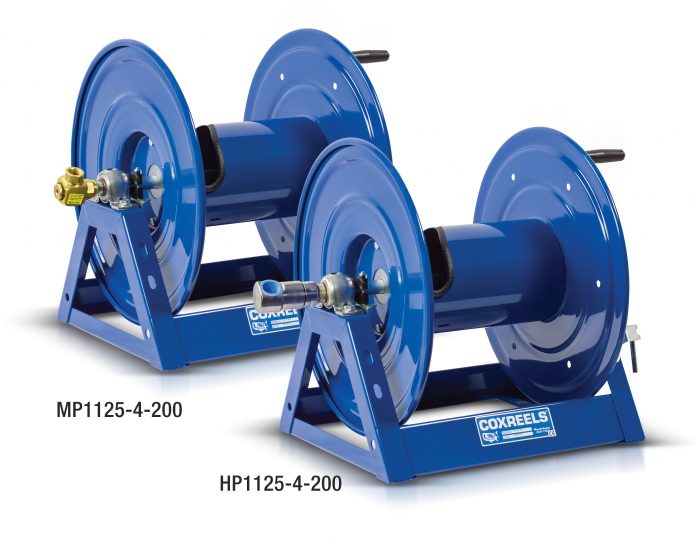 Coxreels® is pleased to offer our customers two upgraded swivel options for the 1125 Series. The medium pressure (up to 4,000 PSI) and high pressure (up to 5,000 PSI) can both be factory installed on the standard 1125 Series.
The medium pressure swivel is precision machined from solid brass and features upgraded wall thickness, and upgraded seals and backup rings. When requesting this upgrade, change the model prefix to –MP (example: MP1125-4-200).
The high pressure swivel is machined from high strength steel and nickel plated for corrosion resistance. This ball bearing swivel features maximum flow and enhanced load bearing capabilities. When requesting this upgrade, change the model prefix to –HP (example: HP1125-4-200).
About Coxreels®
In our 10th decade under the 3rd generation of family ownership and operation, Coxreels is proud to manufacture the industry's highest quality and widest variety of hose, cord, and cable reels. We remain aware that our products are called on to be the most reliable product built to faithfully perform in various settings and applications.
Our team takes great pride in our growth and innovation as a U.S. manufacturer. We recognize USA Made, USA Quality, and USA Support as critical components to delivering incomparable product value. These founding principles are displayed and reflected in each model and every part of the Coxreels product line! Our advanced engineering and manufacturing processes make extensive use of in-house design, CNC machinery with robotic welding and robotic spin cell operations, and modern automation systems that allow us to develop and build state-of-the-art reeling platform solutions that meet the most demanding requirements in the industry
You will see the quality, variety, value and innovation that has made us a world leading reel manufacturer. Over 90 years as the industry leader proves that constant learning and communication with the industries we serve, innovative engineering and the highest standards in quality and service ensure we will continue to innovate with new proprietary technologies, superior special features and superior products that set the bar in the reel industry.