Custom Leathercraft have  a pretty simple philosophy: make the best work gear we can and keep the price reasonable. Nothing fancy, nothing for 'show'. It's all about putting their brain power to work to make the best products they can make and give their customers the best value.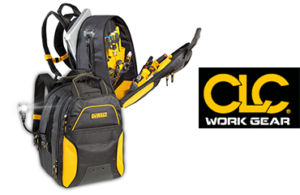 Available August 1, Custom Leather will offer the DGCL33. A 33-pocket lighted USB charging tool backpack.
Features Include:
Internal Custom Design Battery Dock
Use Your DEWALT 20V MAX Lithium Ion Battery and our Internal Custom Design Battery Dock as a USB Charging Source. Battery Not Included
USB Charging Battery DockSimultaneously charges 2 devices via USB ports. Maximum 2 Amps shared output
3 Internal Charging Wall Pockets
Fit tablet, phone, and/or camera
Low Battery Cut-Off Protection
Monitors battery voltage to avoid battery charge over-depletion
31 Multi-Use Pockets Inside and 2 Outside
Organizes a wide variety of hand tools.Large Pads on Back For Extra Comfort
Large Pads on Back For Extra Comfort
Make carrying heavier loads more comfortable on stress areas of the back
Padded Web Carrying Handles and Adjustable Shoulder Straps
Make carrying more comfortable, plus convenience handles on each end for quick "from stow" to "go"
Base Pad Feet Helps Reduce Wear and Abrasion
For more information, visit www.goclc.com.
Manufactured By: Custom LeatherCraft Mfg. Co., Inc. South Gate, CA 90280 under license of DEWALT Industrial Tool Co.