5ME ® and Star SU Join Forces to Advance Cryogenic Machining
Companies sign licensing agreement allowing Star SU, LLC to produce and sell BlueZone TM cryogenic tooling
5ME, LLC and Star SU, LLC are officially united in an effort to further cryogenic machining in the manufacturing industry. A licensing agreement has been signed authorizing Star SU to manufacture and market 5ME's patented Cryogenic tooling designs for end mills, ball mills, tapered ball mills, thread mills, reamers, and drills under the brand name BlueZone TM Cryogenic tooling. The agreement covers sales and service in the United States, Mexico, and Canada.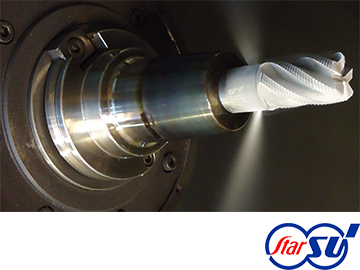 5ME's unique, multi-patented cryogenic machining process is a breakthrough technology that enables higher cutting speeds for increased material removal rates and longer tool life by transmitting liquid nitrogen at 321°F through the spindle/turret and tool body, directly to the cutting tool's edge. "We've worked with Star SU to develop tooling solutions on a variety of cryogenic machining configurations and applications," said Bill Horwarth, President of 5ME. "Our companies share the excitement for bringing cryogenic machining to an ever-growing group of manufacturers."
This environmentally friendly machining technology increases throughput, part quality, tool life, and profitability while reducing energy consumption. It also provides a healthier, safer work environment through the elimination of traditional water-based or oil-based coolants. Applications include high-speed cutting of titanium and other tough-to- cut alloys common amongst the aerospace, heavy equipment and energy industries. "We have collaborated with 5ME on the development of cryogenic tooling because we believe in the advantages that cryogenic machining can provide," said David Goodfellow, President of Star SU, LLC. "It's great to see it being accepted by some of today's most forward-thinking manufacturers, and we're excited to take part in the advancement of this technology into additional applications."
About 5ME
5ME provides the technology, tools, software, and insights you need to get your operations running smarter, faster, and more efficiently. Regardless of the brands you run, we can help you get more from the shop floor.
For more information on cryogenic machining or 5ME's production management software, visit 5me.com.
About Star SU
Star SU is the go-to-market cooperative partnership of Star Cutter Company of Farmington Hills, MI, and SU America, Inc. of Hoffman Estates, IL, the US sales and manufacturing unit to SAMP S.p.A. The companies together represent one of the world's largest gear machine, tool and gear tool manufacturing producers. 
For more information on Star SU, visit star-su.com.