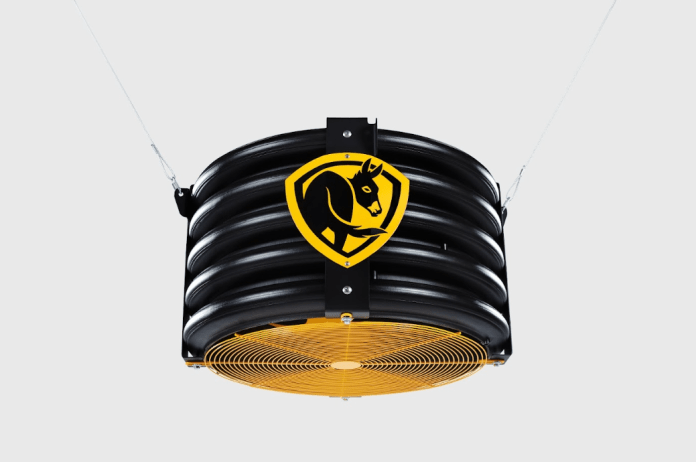 Big Ass Fans, the leading innovator in the industrial and commercial fan industry, is thrilled to announce the launch of its latest product, Hornet. The Big Ass Fans Hornet is purpose-built to produce increased energy efficiency, improve air mixing, and provide superior comfort to your most demanding applications.
Ideal for congested areas and heavily obstructed environments, such as racking aisles and work stations, the Big Ass Fans Hornet can hang where high-volume low-speed (HVLS) fans and other methods of heat distribution aren't feasible.
 Key Features of the Big Ass Fans Hornet:
With its ability to produce up to 6000 CFM per unit, Hornet is the most powerful, most efficient, and most versatile destrat fan on the market! This means it takes fewer Hornets to get the job done – thus, lower energy costs, lower upfront costs, and lower installation costs!

Proven durability and performance – Outfitted with an IP55-rated motor and a heavy-gauge steel frame and lower guard, Hornet was designed specifically for extreme industrial environments.

Industry-leading safety features that have become the hallmark of Big Ass Fans.

Smarter, more versatile control options that allow easy integration into existing automation systems or operation of multiple units from a single controller.

A cooling effect – Hornet has the capacity to run at elevated speeds, which offers a cooling effect during the warmer months if desired.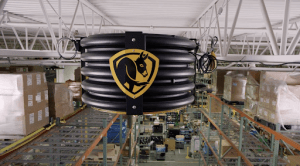 "This was from the ground up thought of to go into an industrial environment and all of the rigors that are associated with it," said David Rose, Global Product Manager, HVLS Fans & Spec Lab. "Pairing Hornet with HVLS fans lends you to the ultimate solution for manufacturing and warehousing environments. It ensures that no matter what's going on in your space, Big Ass Fans has a solution for air mixing and destratification. Devices like Hornet, especially when coupled with HVLS fans, can reduce HVAC costs by up to 30% at a fraction of the capital expenditure of HVAC."
About Big Ass Fans
At Big Ass Fans, we're driven by our mission to create safer, healthier, more productive environments worldwide. What started as a big idea in airflow became a revolution and is now
best practice for designers, managers, and business owners across every imaginable industry and application. Today, our products are proudly spinning and serving more than 80 percent of the Fortune 500 in 175 countries. From factories to homes and everywhere in between, the company delivers comfort, style, and energy savings to make life more enjoyable. With more than 235 awards, 350 patents, an experiment on the International Space Station and the only HVLS Research & Design lab in the world, we go big every day.
SUBSCRIBE to our Complimentary Publications: