THE ENTRY INTO AUTOMATED CNC MEASUREMENTS

The new measuring microscope MarVision MM 420 CNC from Mahr Federal Inc., provides manufacturing operations with fully automatic CNC measurements in the Z, X and Y axis for quality assurance in many industries for the first time. Thanks to the optical sensor, the measuring station is fast, accurate, non-tactile and close to production. It is ideal for height and palette measurements.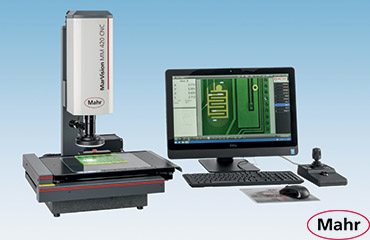 Across industries, quality control is in transition: workpieces must be measured faster, more accurately and cost-effectively. With the new measuring microscope MarVision MM 420 CNC, Mahr now offers the entry into automated solutions that are close to production – for precision products of the manufacturing industry and medical technology as well as miniaturized electronics and plastic components. The test site is also ideal for palette measurements. The advantage of this optical measuring technology with adjustable LED ring light and transmitted light is that quality inspection takes place without contact within a few seconds to minutes and accelerates quality assurance.
The operator specifies and saves the measuring characteristics such as point, line, circle or distance. The saved measuring sequences for user-specific workpieces can be called up separately. The measuring microscope then moves to the stored measurement locations automatically in Z-, X- and Y-axis. Thanks to the measurement in the Z-axis, height measurement is also possible. The user operates the measuring microscope via joystick. The automation of measurement reduces the influence of the operator. The measurement can also be controlled manually in the three axes.
Mahr has placed great importance on the easy and intuitive operation of the measuring microscope. The stitching allows the user to see the entire workpiece on the monitor by combining many individual images into one large image. Easy-to-use functions include the new autofocus, automatic contrast detection and edge detection for punching and bending parts, plastic parts or printed circuit boards.
The new measuring microscope MarVision MM 420 CNC is available at an attractive price-performance ratio with two measuring ranges to choose from: 200 mm x 100 mm x 200 mm as well as for larger workpieces with 250 mm x 170 mm x 200 mm. Optional features include  telecentric backlight for rotating parts as well as coaxial light. The measurement data is transmitted to the PC for documentation and can be printed as a measuring record.
About Mahr Federal Inc.
Mahr Federal, a member of the Mahr Group, has over 150 years of experience in manufacturing a wide variety of dimensional metrology equipment from simple handheld gages to technically advanced measurement systems for form, contour, surface finish and length. Mahr Federal also produces custom-designed gages and provides calibration and contract measurement services.
For more information, please visit www.mahr.com.