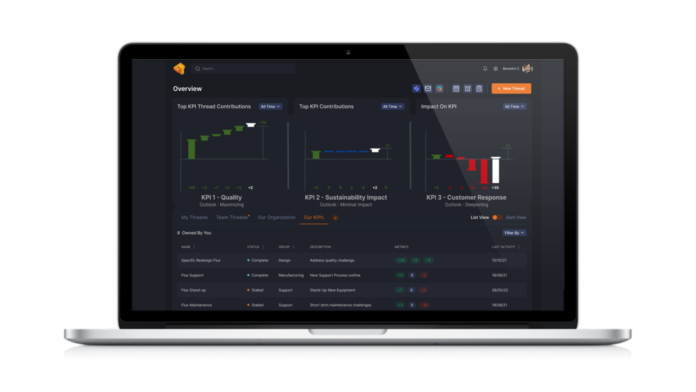 Authentise (www.authentise.com), the leader in data-driven engineering & manufacturing workflow tools, today announced Authentise Threads. This new tool delivers powerful digital thread capabilities, combining communication and project management tools into a radically new work thread collaboration suite. Authentise Threads helps transform R&D and industrial engineering teams into innovation engines with more fluid operations demanded by today's increasingly distributed environments.
Andre Wegner, CEO Authentise, outlines that "despite the noise about the need to be more agile, it's clear there's a relative lack of software solutions available today to support R&D, industrial engineering and manufacturing to actually accomplish this. If the definition and simulation of product and process is digital, then there's no reason we cannot adopt similar processes to those pioneered in software and move at digital development speeds."
Authentise Threads sits alongside existing engineering and project management systems to provide key features such as:
Cross Functional Work Thread Collaboration. Create, search, follow & link shared work threads across engineering teams and partners with real time structured communication, chat & notifications.
Shared information, knowledge, experience, resources and context. A shared repository of all the key data, resources, goals, metrics needed for work thread execution
Collaborative Digital Decision Making. Formally track and manage workthread efforts, insights, actions, decisions, resolutions, and more.
Continuous learning & improvement. Share full history & traceability of work, discussions, issues, decisions, actions, metrics, all with full context.
Authentise Threads delivers value immediately. The R&D organisation of a leading surgical robotics company was up to speed in less than 30 minutes. Within 2 weeks they were seeing a 1.5x ROI on their investment, tracking 100% of their R&D decisions digitally, while saving 150 hours and 20 meetings across a distributed team including external partners. They doubled the effective size of their team.
Leading one of 90 organisations whose feedback helped to shape Threads, Amit Visrolia, Chief of Digital Engineering for the National Composite Centre (NCC) said that "Authentise Threads provides us with a place for people to communicate and for data to be connected. With Threads decision processes, and their context, are captured, which is critical to our ability to demonstrate certification. Essentially, with Threads we've a people and communication work chain".
"Authentise has delivered the digital thread to the world's most agile production settings," says Andre Wegner. "It's only natural that we extend this capability to help streamline R&D. Authentise Threads balances the flexibility of real-time collaboration needed to adapt to rapidly evolving challenges, with the structure needed to make engineering workflows a success. With it, Authentise is completing its vision of helping companies digitally track, power and integrate the idea-to-part process."
About Authentise
Since starting at Singularity University in 2012, Authentise has focused on providing flexible, data-driven workflows in the most agile manufacturing and engineering settings. Its tools help manage the order to part process by connecting to machines and providing operators with digital tools to enable traceability, repeatability and efficiency on the shop floor. Initially focused on the additive manufacturing sector, it now has clients such as Boeing, 3M, and Danfoss, who have seen savings of up to 95% with 6x ROI in the first year.
SUBSCRIBE to our Complimentary Publications: