Full order books are the dream of every manufacturing company. But it's a dream that is at odds with the widespread shortage of skilled workers we're currently seeing. Austrian company BHDT is striving to meet this challenge by continuously testing and implementing the latest technology developments in its own operations. Thanks to Sandvik Coromant's innovative PrimeTurning™ process, the company has successfully reduced its machining time by up to 50 percent, even for materials that are difficult to machine.
BHDT is a family-run company that generates annual sales of 60 million euro and employs around 215 staff. The specialist in high-pressure systems and components for the chemical and petrochemical industry manufactures at three sites in Austria. At Kapfenberg in Styria, it produces pipes, pipelines, valves and fittings in two shifts on 20 machines for well-known plastics and fertilizer manufacturers. The company operates internationally, drawing on its many years of experience and extensive expertise to deliver consistently high quality in line with the latest technology standards. The company has been working closely with Sandvik Coromant for over 20 years.
"Here at BHDT, we're going to be extremely busy for the next three years. Due to the shortage of skilled workers, which we cannot fully resolve despite our own training program, we need to be highly innovative and actually always a little ahead of the times", explains Production Manager Michael Asinger. Against this backdrop, the company is working to continuously develop and improve itself. In particular, BHDT sees immense potential in the areas of automation and digitalization. "Innovative technologies help us to further optimize our processes to successfully manage the high workload."
In search of potential for optimization
Conventional turning processes are considered as part of the search for potential new areas for improvement. In order to further increase productivity in this well-established area, BHDT is looking at the PrimeTurning™process, a Sandvik Coromant solution that is setting new standards.
"Since its introduction in 2017, the PrimeTurning™ process has been considered one of the biggest innovations in the field of turning. The special method, which enables turning in all directions, is an extremely productive and efficient alternative to conventional turning", says Günter Koch, Product Manager Turning Central Europe at Sandvik Coromant. "Unlike conventional longitudinal turning, the PrimeTurning™ method allows the tool to enter the workpiece close to the chuck so that material is removed in the opposite direction. This 'reverse turning' allows for a small entering angle that can achieve significant productivity gains". The concept consists of the PrimeTurning™ process itself, the CoroTurn® Prime Type-A and Type-B tools, the CoroPlus® Tool Path software for PrimeTurning™ and integrations with market-leading CAM software.
The testing phase
Now that BHDT is familiar with the concept, the company is keen to take advantage of its substantial benefits and has initiated an extensive testing phase at the plant.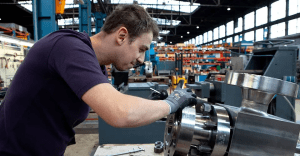 Following initial tests on a Traub lathe and a Geminis sliding headstock lathe for machining operations on lengths of up to 4 meters, the final tests will be run on an Okuma Macturn 550 lathe. The second generation of indexable inserts for PrimeTurning™ can be used in this scenario. "A significant advantage of the second tool generation is that the new PrimeTurning™ insert is negative and double-sided. With its four cutting edges – double that of its predecessor model – it allows for even more cost-efficient machining. In addition, the tool has been equipped with a new, robust insert seat that prevents tool breakage in the event of insert breakage", states Adnan Alijanovic, Account Manager at Sandvik Coromant.
Tests with the new insert involve machining a variety of material grades, from normal tempered medium-strength steel, to stainless materials with normal toughness, to extremely tough super duplex materials. The result is a significant increase in cutting performance. "Thanks to the PrimeTurning™ process, we can run at more than twice the cutting speed with high feed rates, reducing our machining time by 30 to 50 percent depending on the material," explains Christian Eder, Head of Work Preparation at BHDT.
Other advantages include optimized chip breaking without flow chips, which means there are no problems with chip removal. This is an immense benefit, given that chips can otherwise easily wrap around the component, resulting in machine stoppages. "Having to laboriously remove chips with the chip hook negatively impacts machine utilization. And because some of the chips we produce are sharper than a scalpel, we can also significantly reduce the risk of injury to our machine operators, thanks to the safe, stable and continuous PrimeTurning™ process", adds Christian Eder.
Successful implementation
Following a successful testing phase, the next step will be to permanently implement the process at the plant. Here, the focus will be on machining processes in which the innovative turning process can fully demonstrate its advantages. Since there is no classic large-scale production at BHDT and many products are only manufactured with short tool engagement times, the focus is on processes that require a lot of material to be removed. This is because the additional work involved in setting up, clamping and programming – for both single-part and small series production – is compensated for by the associated time savings, especially in large-scale roughing operations.
To date, BHDT has used the intuitive CoroPlus® Tool Path online tool to program the special machining process. "We want to implement complete component machining, including roughing via PrimeTurning™, and to further simplify the process in the future with the aid of a new programming system. However, the affordable online solution from Sandvik Coromant works perfectly and offers genuine benefits, especially for manufacturing companies that are unable to program with their own systems", says Christian Eder.
In addition to the machining aspects, there are a number of prerequisites for optimum use of the PrimeTurning™ process, both on the machine and the component side. For example, the machine should have sufficient power and stability and, ideally, a closed design due to the considerable chip flight. The component to be machined and the tension, overhang and other conditions must also be compatible with the new turning process. "We will use PrimeTurning™ wherever the component and machine characteristics allow. We are looking specifically at roughing and contouring operations, in both internal and external machining applications. PrimeTurning™ tools offer broader potential than ISO inserts thanks to their high flexibility. Our aim is therefore to use PrimeTurning™ in the future not only for longitudinal and face turning operations, but also for grooving and contour turning", says Michael Asinger.
Strong team performance
At BHDT, everyone involved is sold on the benefits of the PrimeTurning™ process. In particular, any initial doubts among the experienced machine operators were quickly dispelled thanks to the clear machining results. "Everyone saw very quickly that the PrimeTurning™ process offers real added value for BHDT. What is particularly positive for us as a company is that we realized the improvement process collaboratively. After carrying out the tests with experts from Sandvik Coromant, application engineers worked hand in hand with machine operators, the tool store and the plant management to realize the excellent results as a team", reveals Michael Asinger.
SUBSCRIBE to our Complimentary Publications: