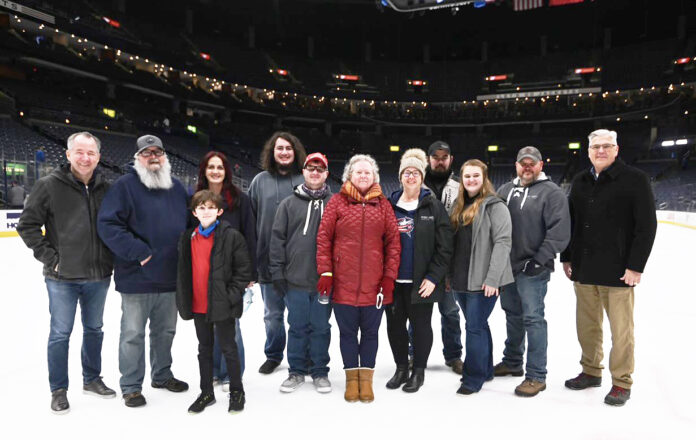 As a result of their long-standing presence in the local community, West Ohio Tool Co. won the Columbus Blue Jackets Small Business of the Month presented by First Merchants Bank contest. As the month of January winner, West Ohio Tool Co. received recognition as the featured company during a Blue Jackets game on Wednesday, January 26. They are one of six small businesses recognized during the season.
West Ohio Tool Co. is well known for its problem solving, technical support and long-term partnerships with its manufacturing customers in industries ranging from automotive to aerospace and medical. The company's strong reputation rides on its high-quality tooling delivered in the shortest amount of time possible and that allows customers to produce better parts faster.
West Ohio Tool Co. purchased tickets for all employees and spouses who wanted to attend. Four employees enjoyed the game from the First Merchants loge box, courtesy of their win. The West Ohio Tool Co. logo was featured on the in-arena LED dasherboard throughout the game, and a PA announcement during the second intermission recognized them as the winners. After the game, West Ohio Tool Co. employees were welcomed on the ice for a unique photo opportunity.
About West Ohio Tool Company
West Ohio Tool Co.'s hand-selected team of experts in engineering, tooling, innovation and advanced machining geometry develops custom cutting tools that have been exceeding expectations for more than 30 years, with delivery times up to 75% faster than industry standards. The firm's innovations include the patented edgeX4, the PCD cross-center tipped drill that runs up to three times faster and 10 times longer than carbide. As an experienced PCD and carbide cutting tool maker, West Ohio Tool Co. focuses on building long-term partnerships with customers based on problem solving, technical support and better, faster, longer-running drills.