NEW AT IMTS 2016 – TJR Rotary Tables Now Offered by
CNC Indexing & Feeding Technologies
BOOTH S-9092
CNC Indexing & Feeding Technologies is proud to announce its new partnership with TJR Precision Technology from Taiwan.  TJR, or Tan Jia Precision Technology, is a well-established supplier of rotary tables to machine tool OEMs such as Okuma, Doosan, DMG Mori, Mazak, and Tongtai.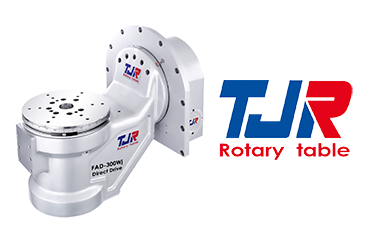 "The new partnership allows us to supply the most technically advanced rotary tables in the industry, with special emphasis on direct drive and 5c collet 4th axis series units," said Steve Smith, president of CNC Indexing & Feeding Technologies.
The company originated as a rotary table sales and service agent prior to establishing Tan Jia Precision Technology as an OEM in 2009.  After much success, the company grew to having the largest market share of machine tool accessories in China.  Today TJR is a top OEM with offices all around the world. Their rotary tables are built with high quality features such as an anti-wearing worm gear and shaft made of high tensile brass for durability.  Further, encircling braking systems use a large clamping range to prevent displacement during heavy-duty cutting.  For tilt rotary tables, TJR offers a 2+1 independent braking system and large diameter radial and axial preloaded bearings for rigid support during 4th and 5th axis cutting on both single and dual arm rotary tables.  A 3-year parts warranty is standard for all new TJR rotary tables.
For more information visit IMTS 2016 booth S-9092, CNC Indexing's website at cncindexing.com  or email sales@cncindexing.com