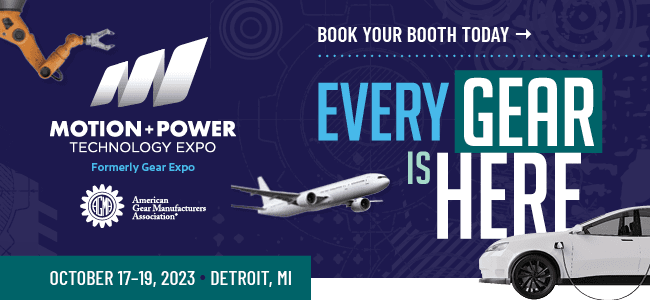 AGMA has partnered with S&P Global to provide the latest economic report for industries related to gear and power transmission manufacturing. Know what to expect in the coming year and keep business moving with this report and the opportunities for leads at Motion + Power Technology Expo.
A Mild Recession with Key Outliers
Industrial production is moving into a mild recession. We saw 3% growth in 2022, but manufacturing will struggle to stay positive in 2023. New orders have cooled in early 2023 and will likely move into a period of flatness. We can expect to start seeing a slow recovery in 2024 with at least 1.4% growth.
However, not every sector within manufacturing is in decline – and exhibiting at MPT Expo will put you in front of vibrant customers:
Transportation equipment manufacturing grew 7.2% in 2022 and should see another 2.3% increase in 2023.
Motor vehicle and parts production should grow 2.2% in 2023 and 5.5% in 2024 as supply chain issues start to resolve.
Aerospace should be one of the fastest growing manufacturing industries in 2023 at 4% growth. Look for another 4% increase in 2024.
The energy sector is experiencing a recovery. Drilling rose 24% in 2022 and should expand another 11% in both 2023 and 2024.
View the Annual Gear Market Report Analysis webinar.
We are reaching out to organizations in these segments and inviting them to attend MPT Expo. Many have already registered and are looking to make deals. Exhibit at MPT Expo to showcase your products and offer the solutions they need.
Opportunities for Business Amid a Slow Economy
Supply chain problems are improving, equipment manufacturers are filling orders at a faster pace, and gear shipments improved at the end of 2022 and early 2023.
More than ever, gear and power transmission manufacturers need to take advantage of every opportunity to keep their business moving forward. At Motion + Power Technology Expo, you will meet with engineers, production managers, operations managers, CEOs, and other professionals within the sectors seeing growth right now.
Don't fall behind during slow economic times when leads and sales can be found with the right companies. Find them at MPT Expo.
SUBSCRIBE to our Complimentary Publications: