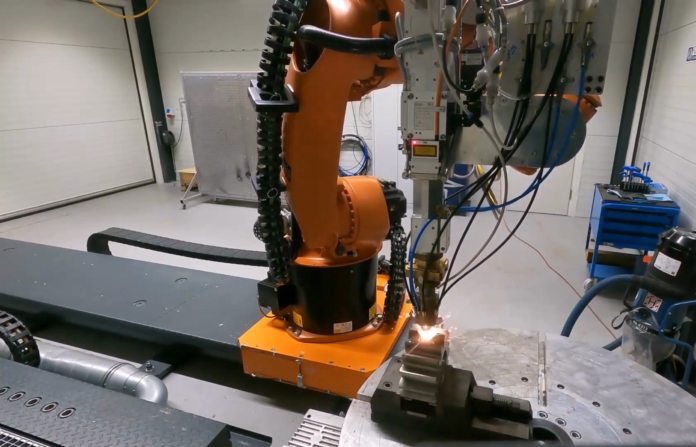 FORCE Technology, a Danish technology consultancy and service company, has completed in partnership with Hexagon Manufacturing Intelligence and RoboDK a revolutionary project focused on making gear repair a more sustainable process for manufacturers.
The purpose of the project was to improve laser welding procedures and determine if sustainable gear repair was possible using robot toolpath programming, digital twin, simulation, and post-processing. Improving this practical application with robot simulation reveals a sustainable gear repair process that can guarantee high-quality results.
Repairing the gear using industrial robots and robot simulation will help industries reduce waste, energy consumption, and the cost of replacing components. This application is designed for the Maintenance, Repair, and Operations process and focuses on safely restoring repaired gears to service.
Using industry knowledge from Randers Gears and Villiam Petersen Tandhjulsfabriken Horsens, the project proceeded using FORCE's experience in laser welding.
The Technologies involved
The project used Direct Energy Deposition (DED) Technology, a process that follows a toolpath created directly from a CAD geometry and builds up parts in successive layers. In this case, the DED toolpath has been programmed using ESPRIT additive toolpath programming features, a CAM software from Hexagon Manufacturing Intelligence.

RoboDK's digital twin and post-processing features were used to generate the robot program. The RoboDK extension in ESPRIT simplified communication between systems and made it easier for end-users.
FORCE Technology used a 6-axis KUKA robot arm mounted on a rail (linear axis), a tilting table for rotary operation, and a spindle to produce the part.
Additionally, a GTV cladding head (powder and laser) enabled additive functions resulting in an overall cycle time of 5 minutes when reloading Steel 4140 parts.
Ivar Dale, Additive Manufacturing Specialist at FORCE Technology, explains:
"The project was a big step stone towards making gear repair more standard and achieving the required guarantee of quality and confidence to put repaired gears back into service from the gear manufacturers."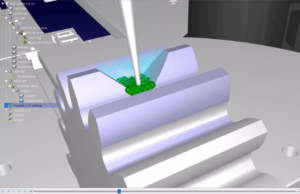 RoboDK's simulation and offline programming tools can also reduce production downtime caused by shop floor programming. Companies can test a robot's abilities in a virtual environment with RoboDK.
Dale continues:
"Using the path planner additive solution from ESPRIT/Hexagon, and the post-processor from RoboDK we saved a tremendous amount of time to program the path with a 1mm positive offset as the shape of the tooth was organic. 
This saves us time in printing, especially in larger repairs, but it also saves the gear manufacturer time as the material we add is very hard and every mm takes time to carefully CNC."
Overall, FORCE Technology employed ESPRIT, Hexagon's "Hybrid" CAM to program additive head path planning, and RoboDK to resolve kinematics and collisions while generating robot code to create the toolpath trajectories for Additive Manufacturing.
The Hardware Setup
The hardware used for this project includes:
A GTV PLC System
A HighYag/Coherent Laser head mounted on a GTV cladding system
A KUKA KR30 Robot
A Trumpf 16KW laser system
The Software Setup
The software used for this project includes:
ESPRIT: Hybrid CAM Software
RoboDK: Robot Simulation and Programming Software
Sustainable and Environmental-Friendly Technology Change
Ever mindful of their environmental responsibilities, the project enabled FORCE Technology to determine how to repair a gear instead of replacing it. In turn, they avoided throwing away a whole part and wasting materials and labor costs.
In addition, they kept downtime and costs low due to eliminating the need for replacement parts. The project is a successful example of how robot integration can improve MRO (Maintenance Repair and Operations).
FORCE Technology, Hexagon Manufacturing Intelligence, and RoboDK demonstrated how contemporary businesses could collaborate using state-of-the-art technology to implement production processes for the benefit of the industry. The partnership illustrates the implementation of sustainable repairs and the reduction of waste and energy consumption for timesaving and more environmental-friendly industrial businesses.
The project was made possible by generous funding from the Manufacturing Academy Denmark (MADE).