Technology is Turning Art into Science in the Abrasive Machining/Sawing/Finishing Pavilion
Ten years ago, remotely accessing data from a grinding or honing machine was a speculative conversation around the water cooler. Now, driven by the need to help manufacturers improve productivity, several companies will unveil the first grinding, honing and sawing machines with online data management capabilities in the Abrasive Machining/Sawing/Finishing Pavilion at IMTS 2016 – The International Manufacturing Technology Show, Sept. 12-17, McCormick Place, Chicago.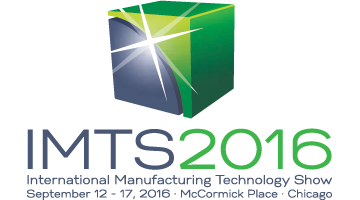 "Through cloud-based applications that crunch numbers and provide graphical displays on smart devices, managers will be able to obtain real-time information on operational efficiency," says John Memmelaar Jr, Vice-President of Royal Master Grinders Inc. "Reports on cycle time, uptime, downtime, error alerts and more are now literally in the palm of your hand."
"The demand for internet-driven tools to extract and analyze data has reached critical mass, and you'll see that reflected in the technology showcased at IMTS 2016," says Peter R. Eelman, Vice President – Exhibitions & Business Development, AMT – The Association For Manufacturing Technology, the parent organization of IMTS.
Bob Davis, Global Communications Manager, Sunnen Products Company, adds that, "Pavilion visitors will be able to explore a new generation of menu-driven controls and automated set-up functions designed especially for operation by Millennials."
TURNING ART INTO SCIENCE
More than just about any manufacturing technology, grinding and honing existed in a realm where skilled tradesmen made mechanical adjustments and used experience and intuition to bring parts to tolerance. Unfortunately, these older tradesmen are retiring and not being replaced.
"The world of black art is not a world you can survive in anymore," states Memmelaar. "You need to have repeatable set-ups and processes and controls designed to be operated by Millennials who feel comfortable with video games and the Internet."
"We are enabling manufacturers to produce equally good or better results by automating functions that were previously controlled manually," says Davis. As an example, operators traditionally needed to remove a part from a honing or lapping machine and gage it multiple times before reaching the desired specification. Now, a computer controlled in-process air gage removes the guesswork, decreases cycle time and increases first-pass yield rate. Automated functions enable operators to become more productive.
Other advancements include machines where operators program functions using common software, such as Microsoft Excel®.
"Eliminating the need to understand G-code means more people can operate a machine, and that directly leads to more manufacturing jobs," says Memmelaar. He also cites the ability to develop, store and recall programs using Excel and other common applications in the daily use of machine controls.
"You have to machine parts quicker, and they have to be right the first time if you're going to be profitable," adds Davis. "If you're too slow, have too much waste or it's too expensive to make the parts, then you're not going to be competitive."
Machines that can grind multiple parts, not just one part at a time, also increase productivity. Instead of grinding a single part in 8.3 seconds, for example, a machine can grind 12 parts in 30 seconds, reducing piece part time to 2.5 seconds. To increase productivity post-process, machine builders incorporate robots to perform secondary activities such as gaging and stamping.
"Modern grinding, honing and sawing systems have a much cleaner profile," adds Eelman, who attended his first IMTS show in 1980. "Compared to mechanical controls and bolt-on accessories, a CNC-driven system with servo-motor control inspires confidence on plant tours. Customers will readily discern that your shop is set up to produce consistent quality parts."
TRENDING TIGHTER
At the same time the industry's skilled tradesmen are retiring, end-use applications require tighter tolerances than ever to comply with more stringent government regulations. For example, on August 16, the Environmental Protection Agency and the Department of Transportation jointly announced final standards that require up to 25 percent lower carbon emissions and fuel consummation in large vehicles.
"Tighter tolerances on bores and fuel injectors, coupled with the appropriate surface finish, create a better seal and increase efficiency," says Davis. "Fluid power systems face similar challenges to minimize leakage. We can control tolerances so tightly — sometimes at the sub-micron level — that it's almost a race to see if we can find a gage to measure them."
"The systems on display in the Abrasive Machining/Sawing/Finishing Pavilion demonstrate how machine tool builders respond to industry demands and help preserve manufacturing jobs," concludes Eelman.
IMTS — INTERNATIONAL MANUFACTURING TECHNOLOGY SHOW
The largest and longest running manufacturing technology trade show in the United States is held every other year at McCormick Place in Chicago, Ill. IMTS 2016 will run Sept. 12-17. IMTS is ranked among the largest trade shows in the world. Recognized as one of the world's preeminent stages for introducing and selling manufacturing equipment and technology, IMTS attracts more than 114,000 visitors from every level of industry and more than 112 countries. IMTS is owned and managed by AMT — The Association For Manufacturing Technology.
For more information, visit www.IMTS.com.
AMT — THE ASSOCIATION FOR MANUFACTURING TECHNOLOGY
AMT — The Association For Manufacturing Technology represents and promotes U.S.-based manufacturing technology and its members—those who design, build, sell, and service the continuously evolving technology that lies at the heart of manufacturing. Founded in 1902 and based in Virginia, the association specializes in providing targeted business assistance, extensive global support, and business intelligence systems and analysis. AMT is the voice that communicates the importance of policies and programs that encourage research and innovation, and the development of educational initiatives to create tomorrow's Smartforce. AMT owns and manages IMTS — The International Manufacturing Technology Show, which is the premier manufacturing technology event in North America.
For more information, visit www.AMTonline.org.