NexGenCAM LLC Acquires Programming Plus
Effective Oct 2nd, Programming Plus was formally acquired by NexGenCAM, LLC of Port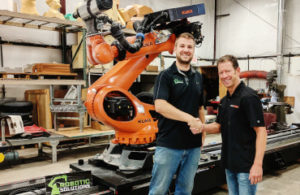 Washington, WI. Tom Bentley, the founder and owner of Programming Plus for the past 30 years, will focus exclusively on robotics and automation with Robotic Solutions, Inc., his second company, that he has been running for the past 14 years.
"There could not be a better company for our customers to work with on their CAM and machining needs," said Tom Bentley, CEO of Robotic Solutions, Inc. "NexGenCAM has an extremely competent team that is truly interested in the success of their clients.  They are recognized by Autodesk as the top CAM solutions provider in North America and our customers will be in good hands. Although our shift will be to the robotics industry, we will continue to partner along with NexGenCAM to provide new customers with CAM solutions along with our turn-key robotic cells for machining and tending."
Due to their great reputation and past success, NexGenCAM will retain Programming Plus as a new division under NexGenCAM that is focused on advanced manufacturing CAM solutions for 2-5 Axis milling, turning, mill/turn, Swiss, and wire. The primary offerings from this group will be PowerMill, PowerShape, FeatureCAM, ArtCAM, and RobotMaster.  New training and services offerings including best practices courses, automation, and custom post processor optimization will be available this quarter.
"We're thrilled to bring on the Programming Plus customer base and look forward to building a strong partnership moving ahead with each person," said Mark Fischer, Managing Director, NexGenCAM.  "Customers are everything to us and are our top priority.  Our goal is not to be viewed as just the best CAM software, training, and support provider, but as trusted advisors sharing in mutual success together."
For more information or to receive a technical consultation:
Phone:  888-310-2674
Email:  sales@nexgencam.com
Web: www.NexGenCAM.com
Youtube: www.Youtube.com/NexGenCAM