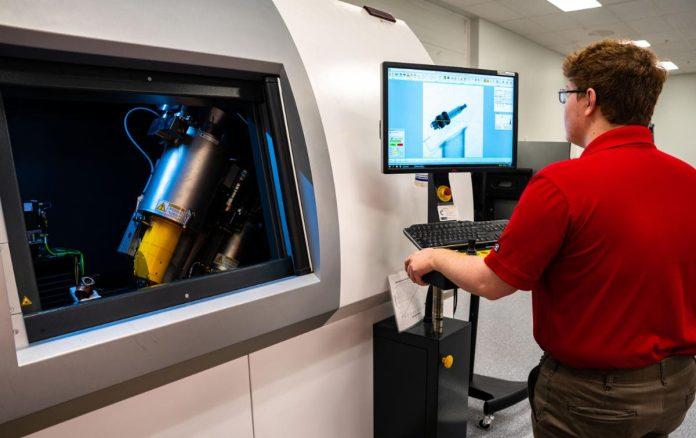 As further evidence of the ongoing (at light speed) development in part production across all industries, four of our clients have married machining with metrology. Essentially, the measurement of a machined or additive part is being done in the cutting theater, thus eliminating the labor- and time-intense process of taking parts down the hall to a CMM for validation against the CAD file.
In this "marriage" arrangement, the cutting parameters are captured, fed to a cloud-based or host server, instantly compared to the CAD specs and then, as needed, the machine is adjusting its cutting of the very next parts. This is a genuine giant step on the path to digitalization and machine learning. Is that AI I see coming over the horizon? Actually, no, it's pulling into the driveway!
Here's what just four of our forward-thinking clients are doing…
ANCA, the global leader in tool grinding machines, has joined with Zoller in the AIMS system, which stands for ANCA Integrated Manufacturing System. You can watch it here (link to our YT channel vid). All done in a virtually unattended environment, too.
Zimmermann, a leading builder of large portal milling machines for the aerospace and very large base mold industries, has partnered with Hexagon for in-process measurement.
Nidec, a gear machine builder, has literally walked across the street in Detroit to join with Wenzel for advanced gear machining/measurement projects. This marriage was celebrated at the last IMTS and many of you media moguls attended our press conference to see it in action.
Finally, our metrology client Exact has joined (literally) the family of In-Place Machining, which now boasts a new Measurement & Alignment Services Division. As a precursor to machining and throughout that process, which is typically done on large workpieces such as power gen rotors, wind turbines and marine diesel power plants, laser and CT measurement is performed. Thus, data capture and instant adjustments in the cutting and finishing operations are made possible.
It's a new day in every aspect of manufacturing plus machine maintenance and we're proud to serve such innovative and creative thinkers, who use AND blend the technologies in their markets to move the ball farther down the field and help their customers succeed.
SUBSCRIBE to our Complimentary Publications: