Mastercam and Emuge Establish Partnership
CNC Software, Inc., (www.mastercam.com) developers of the manufacturing industry's leading Mastercam CAD/CAM software, announced it has established a partnership with Emuge Corporation, a leading manufacturer of high p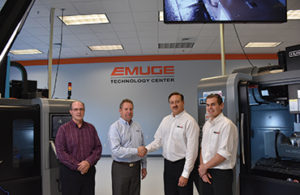 erformance taps, drills, end mills, and other rotary tools.
Both companies will share technical data and best practices on machining applications and programs, participate in joint seminars and training events at each other's technology centers, and collaborate to develop and promote advanced, high productivity machining solutions for North American manufacturing professionals.
"We are excited to establish a partnership with Emuge who, like CNC Software, has consistently provided innovative, industry-leading solutions for manufacturers. We are looking forward to working together, leveraging our extensive resources and expertise to offer the very latest technology for our customers," said Meghan West, President of CNC Software, Inc.
"We are very pleased to partner with Mastercam and see the relationship as an excellent way to further enhance our metal cutting solutions for customers throughout the U.S. and Canada. Mastercam has an outstanding reputation across the industry for providing leading CAD/CAM solutions for the latest machining technology, which aligns well with our customer base and approach," said Bob Hellinger, President of Emuge Corp.
Emuge and Mastercam are planning upcoming training and seminar events for 2017. Customers will be notified and information on events will also be posted on their respective websites.
For more information on the Emuge-Mastercam partnership, contact Mastercam at 671 Old Post Road, Tolland, CT 06084, Tel: 800-228-2877, www.mastercam.com or Emuge at 1800 Century Drive, West Boylston, MA 01583-2121, Tel: 800-323-3013, www.emuge.com.
About Mastercam
Developed by CNC Software, Inc., Mastercam is Windows®-based CAD/CAM software for 2- through 5-axis routing, milling and turning, 2- and 4-axis wire EDM, 2D and 3D design, surface and solid modeling, and Swiss machining. Privately owned and founded in 1983, CNC Software provides CAD/CAM solutions to more than 224,000 installations in 75 countries in industries including moldmaking, prototyping, automotive, medical, aerospace, consumer products, and much more. For more information, please visit www.mastercam.com.
About Emuge

Emuge Corp. is a wholly owned subsidiary of the 1,500+ employee German company EMUGE-Werk Richard Glimpel GmbH & Co. KG (Lauf, Germany) that has been the product technology and performance leader in their field for nearly 100 years. The company manufactures an extensive line of taps, thread mills, drills, end mills, toolholders, clamping devices and other rotary cutting tools, over 100,000 items sold through distributors worldwide. Emuge also offers end-user technical support through a network of in-the-field engineers and in-house product specialists, all with extensive tooling and application experience.
Over 10,000 types of cutting tools and accessories are stocked in the company's U.S. and Canadian Headquarters located in West Boylston, MA, U.S.A. The 21,000 square foot state-of-the-art facility includes a new technology center with a machining and tooling demonstration showroom and classroom, tool reconditioning manufacturing, warehouse, sales, support and administrative offices. For more information on Emuge products, contact Emuge at 1800 Century Drive, West Boylston, MA 01583-2121, Tel. 800-323-3013, internet:  www.emuge.com.