KAPP Technologies Takes Majority Ownership in Penta Gear Metrology, LLC
Kapp Technologies announces it has become majority partner in Penta Gear Metrology, LLC.
Penta Gear Metrology LLC builds both functional and analytical gear measuring systems used in most gear manufacturing plants from automotive transmissions to industrial drives. The Dayton, OH company is known for innovative design and modern intuitive software. Penta Gear Metrology (formerly Pentagear Products and PECO) pioneered the gear analyzer technology with advances in software and motion control systems beginning in 1999. Penta Gear Metrology proudly serves Pentagear and PECO customers on 4 continents and is highly regarded for support. President Marvin Nicholson has led the company through the transition and remains a partner. He states, "The partnership with Kapp Technologies expands opportunities for us and provides resources to accelerate our new developments. We are excited to introduce the PGM400 at IMTS2016. It is the larger and faster brother to the smaller ND products."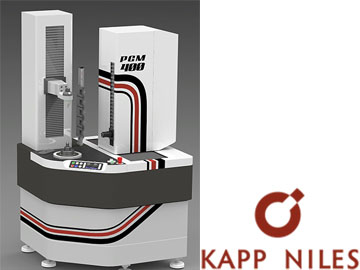 Penta Gear Metrology also offers a retrofit or "REPOWER" of certain used gear analyzers. The PGM motion system and software is adapted to provide a cost effective solution for gear manufacturers. Penta Gear Metrology LLC is ISO 9001, ISO14001 & QS 9000/TE Registered. "This was a natural progression for us," says Bill Miller, Vice President Sales at KAPP Technologies. "With Penta Gear Metrology we now serve our entire market with analytical gear inspection systems. Penta Gear is a perfect fit with the larger systems of R&P Metrology Systems."
Penta Gear Metrology will be at the KAPP NILES Booth N‐7036 at IMTS.
About KAPP Technologies, LP
KAPP NILES is a global market leader in manufacturing machines and tools for finishing gears and profiles. KAPP NILES provides a wide spectrum of machine models suited to the processes of profile and generating grinding. Our 115 years of experience guarantees precision and efficiency for the machining of your components.

For more information, please visit www.kapp-niles.com.
About Penta Gear Metrology, LLC
Pentagear offers a wide variety of functional and bench top gages to meet your gear and spline inspection needs, providing new solutions for your specific challenges.
For the complete line of machines offered by Penta Gear Metrology LLC, go to www.pentagear.com.