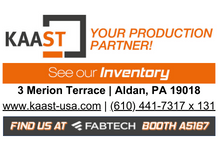 KAAST Machine Tools, Inc. will showcase 10 different fabrication and forming machines at Fabtech 2023 in Chicago. Visit Booth A5176 to see the following machines: PS 65 DP 70-ton Ironworker, HPA-P 150/40 150t Simple Press Brake, RBD-3M 15/7 Plate Roller, HBS 230 DG 9" Dual Mitering Semi-Automatic Band Saw, HBS 360 DGH Semi-Automatic Dual Mitering 14" Band Saw, HPA 80/1 80t Straightening Press, HPB 1040 40t CNC Press Brake, DMVH 305 VS Knee Mill, PBH 65 NC Angle Roller and PBM 30 Angle Roller. Stop by and witness these impressive machines in person.
The PS 65 DP Ironworker is a versatile machine with 70 tons of pressure and 5 work-stations for punching, shearing, and notching. It features two hydraulic pistons controlled by independent foot pedals, allowing two operators to work simultaneously. The stroke of the pistons can be adjusted based on material thickness. An automatic back gauge and adjustable rear stop are included.
The RBD-3M 15/7 is a medium-duty three-roll plate roll that handles materials up to 0.25" thick and 56" wide. It offers overload protection, hydraulic movement of top and side rolls, and a sturdy welded steel frame.
The HPA-P press brakes have steel welded H-Frames with adjustable table heights. They are easy to operate with two hand control and come with a top punch and a 5V die for airbending. The HPA-P presses can be sized to fit most shop floor demands and are in stock and ready to ship.
The HBS 230 DG and 360 DGH semi-automatic dual mitering bandsaws provide 9" or 14" capacity, a coolant system, quick-action vice, and variable blade speed and down feed control. Blade changes are simplified with the hydro-mechanical blade tensioning system, and the HBS 360 DGH has a digital readout for angle precision.
The PBM 30 features foot-pedal control of the chain-driven bottom dies. The upper die is manually adjustable to determine rolling diameter. It is suitable for bending square, flat, and angle iron and can accommodate custom dies for unique profiles. Perfect for smaller job shops and prototyping, it offers vertical and horizontal operation capabilities.
The H-Frames of the HPA 80/1 80t Straightening Press is steel welded and come with adjustable table heights. These presses are simple to operate with their joystick control. Two V-blocks are included with each machine to assist with straightening and or positioning material. The HPA presses can be sized to fit the space requirements of most shop floors. The manometer allows the operator to monitor the pressure on an easy-to-read analog dial.
The HPB 1040 40t CNC Press Brake is the perfect CNC solution for complicated, sensitive, single, or multiple bendings at high speed. This machine is among the highest rated CNC press brakes for helping to increase productivity and lower costs by utilizing a user-friendly computer numerical controller and hydraulic maintenance. It allows you to have more production capacity and eliminates wasted time during production.
Our DMVH 305 VS Knee Mill is built to last, with a high-quality heavy-duty MEEHANITE cast iron base and all guideways coated with Turcite B for maximum durability. The XYZ slideways, table, and T-slot are hardened and ground for long-lasting wear resistance. The high-grade casting is annealed and stress-released for high rigidity, making it perfect for even the toughest milling jobs. Box ways on Y and column ensure smooth
and precise movement, while telescopic steel covers protect the slideway and ball screw from dust and coolant. Plus, semi-guarding is standard with optional full guarding available. This series offers independent or simultaneous use of both the vertical and horizontal spindles.
The PBH 65 NC Angle Roller offers a triangular die arrangement with the top die fixed and the two lower dies hydraulically adjustable. Pushbutton control with digital readout is standard. All three dies are driven. NC EasyView semi-automatic control makes automation easy! All movements, processes and commands of the operator during the bending process can be recorded in the teach-in mode and then recalled and played back automatically at any time. To achieve the required bending results, all stored data can be edited. Memory for 48 bending programs with 1000 steps each.
About KAAST Machine Tools, Inc.
KAAST Machine Tools, Inc. is proud to offer one of the most diverse and extensive line-ups of machine tools in the industry. From mills and lathes to grinders and saws, and from brakes and rolls to presses and ironworkers, KAAST makes it easy to find the right machine for your application. We stand behind our machines with quick shipping of spare parts and excellent after-sales service. Need in-person training or installation? No problem! KAAST Machine Tools, Your Production Partner.
SUBSCRIBE to our Complimentary Publications: