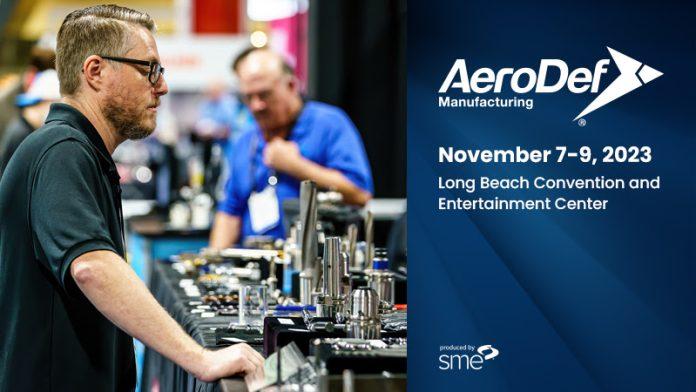 How do you stay up-to-date with the latest aerospace and defense manufacturing technology? 
At AeroDef, we believe the only way to understand the current offerings is to see, test and experience them in person. And we design our conference to maximize your exposure to the most sought-after products on the market.
On the show floor, you'll meet with leading solutions providers, including Mazak, Mitsubishi and Nikon.
In the Aerofied Preferred Supplier Pavilion, you'll find key players from large aerospace and defense companies who can share strategic insights in presentations and one-on-one sessions — giving you the context you need to make purchasing decisions with confidence.
And in keynotes and presentations, speakers from the highest levels of government and industry will unpack the challenges and opportunities facing our field today.
Ready to connect and collaborate with the brightest minds in aerospace and defense manufacturing? It can only happen at AeroDef.
Register now to secure your complimentary show floor pass. Then, spread the word by sharing the benefits of AeroDef with a friend or colleague.
About AeroDef 2023
AeroDef Manufacturing® is an aerospace manufacturing and defense manufacturing conference and trade show for the aerospace and defense manufacturing industry. Produced by SME, in partnership with industry OEMs, our mission is to foster innovation across the extended enterprise to reduce costs, expedite production times and maintain manufacturing competitiveness in the global economy.
AeroDef showcases the industry's most advanced technologies across an innovative floor plan designed to facilitate interaction and business relationships between exhibitors and buyers looking for integrated solutions. Our keynote speakers and panelists come from the highest levels of government and industry. They participate to share their vision of the potential of technology, collaboration and public policy to transform manufacturing – concepts that attendees will experience on the exposition floor and in the in-depth conference technical sessions. It's the one event that brings together high-concept, advanced solutions and real-world applications.
SUBSCRIBE to our Complimentary Publications: