New Giddings & Lewis V Series Vertical Turning Center to be Exhibited at IMTS
The new Fives Giddings & Lewis V Series vertical turning center makes its trade-show debut at IMTS in booth S-8109 with the exhibit of a V 800 model. The new turning center line, with six table sizes from 800 to 2500 mm, is designed specifically for shops seeking a dependable, multi-purpose lathe for pumps, valves, gears, bearings, compressors, wheel hubs, jet engine housings and more. With high metal removal rates and high precision, the V Series lathes offer unmatched standard features and superior value.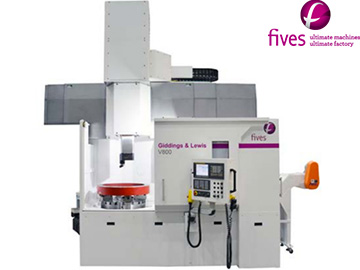 All V series machines incorporate a hydrostatic ram to maximize rigidity for heavy, chatter-free cutting and improved part finish. The hydrostatic wear-free guides require less maintenance. The infinitely adjustable cross rail is a programmable positioning axis able to handle a wide range of parts and minimize ram extension. Dual scale feedback delivers precision and ensures parallelism while the hydraulic cylinder elevation adds secure 1000 kN (225,000 lb) of mechanical clamping force per side. No other vertical turning center offers these high-value features standard.
"The V Series is engineered to be flexible, reliable and affordable in response to feedback from our job shop customers," said Brad Nelson, V Series Product Manager at Fives Giddings & Lewis. "All models have a compact footprint, and there is no requirement for special foundations, so the machine can be easily relocated, if necessary. We encourage customers to compare the capabilities and value of the V Series, and we're confident these new machines will impress."
The Giddings & Lewis VLock tooling system provides a stiff interface for modular tooling adaptors, long cutting tools and the optional heavy-duty right angle milling attachment. Modular turning tools more than double the taper stiffness at loads up to 1800 Nm," added Nelson. Standard modular tools offer significant savings over proprietary vertical lathe tooling offered on most vertical lathes. "Modular tools are also lighter, easier and safer to handle, requiring less time to maintain."
Through-the-tool coolant and 8 bar (116 psi) flood coolant is standard, as is a 12-position tool storage disk. Options include 70-bar (1015-psi) high-pressure coolant and an 18-tool storage disk. Other options include tool and part probes to increase utilization and ensure part quality, and enclosures from standard to fully enclosed.
The V Series is designed and built at the Fives Giddings & Lewis plant in Fond du Lac, WI and stays true to Giddings & Lewis design traditions, with solid cast iron base construction and versatility offered by optional live spindle attachments and a C-axis table. "By adding the V Series, starting with 800 mm tables, to our existing VTC Series of vertical turning centers, with swings up to 9 meters, we are positioned to offer manufacturers the broadest and best range of turning solutions, said Kevin Lichtenberg, Fives Giddings & Lewis President.
About Fives in Metal Cutting | Composites
The Metal Cutting │ Composites offer is specialized in the supply of machine tools and complete manufacturing solutions.
With a strong foundation based upon renowned legacy names such as Cincinnati, Giddings & Lewis, Forest-Liné, Liné Machines and Rouchaud, Fives is recognized as the preeminent provider of outstanding manufacturing solutions which are at the heart of its customers' performance.
Fives Metal Cutting | Composites dedicated teams – approximately 1200 people in over 15 countries – serve key industrial markets including aerospace, automotive and truck, heavy equipment, oil and gas, rail, wind, energy and general machining. With manufacturing and support operations strategically located worldwide, Fives and its Metal Cutting | Composites activity offer comprehensive lines of equipment and technologies including turning, milling, composites processing and software, additive manufacturing, laser welding and cutting with the associated support services (maintenance, spare parts, retrofit, overhauling and upgrading).
About Fives
Fives is an industrial engineering Group with a heritage of over 200 years of engineering excellence and expertise. Fives designs and supplies machines, process equipment and production lines for the world's largest industrial groups in various sectors such as aluminum, steel, glass, automotive, logistics, aerospace, cement and energy, in both developing and developed countries.
In all these sectors, Fives designs and manufactures equipment and innovative solutions, which better anticipate and meet the needs of its customers in terms of performance, quality, safety and respect for the environment.
In 2015, Fives achieved a turnover of 1.7 billion Euros and employed close to 8,300 people in about thirty countries.
For additional information on the Giddings & Lewis V Series, as well as the entire line of Fives' Metal Cutting | Composites, see www.fivesgroup.com or the dedicated Metal Cutting I composites website metal-cutting-composites.fivesgroup.com.