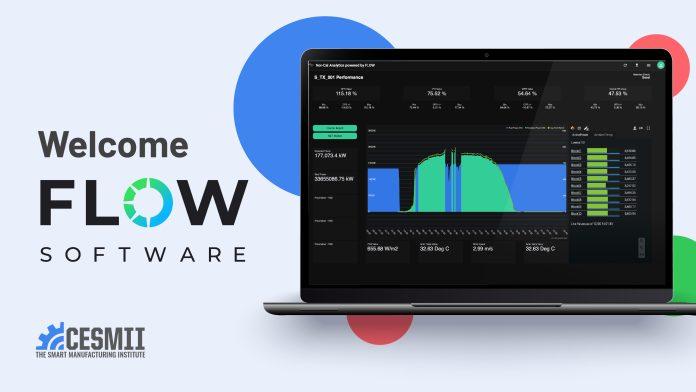 Flow Software, a company that transforms the data accumulated within organizations into valuable, usable knowledge and intelligence, has joined as the newest member of CESMII, the Smart Manufacturing Institute.
Built by a diverse team of system integrators and former end-users who understand the huge potential data analytics bring to the manufacturing sector, Flow provides a method to easily access, clean and transform data into analytics-ready information.
Flow provides a "no-code" framework to collect, combine and normalize data from multiple, disparate OT and IT sources to create calculations and event frames, and contextualize the results using time and model information.
"Typically, companies are seeing only part of the picture when it comes to the data and information their equipment and processes produce," says Jeff Knepper, Managing Partner at Flow. "We create a comprehensive model and connect all your data sources to that model. Then, we transform those traditionally isolated data points into usable KPIs and analytics, allowing you to communicate better to your people and improve overall decision making, both on the manufacturing floor and in the C-suite. CESMII's approach to enable the use of standard, reusable information models will be a tremendous asset to us and our users!"
Flow emerged from what CEO Graeme Welton saw as a massive intelligence gap in the industry. "That gap provided an opportunity for us to step through and provide a solution that would greatly improve data collection, interpretation and communication throughout an organization," Welton said. "We call it a single source of truth, a hub where all operational data is enriched and made accessible to inform and empower all levels of organization to perform efficiently, sustainably, and profitably."
Flow Software provides an ideal fit for CESMII and its mission to democratize smart manufacturing and create better, more effective methods for its membership across the United States.
"Manufacturers continue to struggle with the cost and complexity of the disparate manufacturing solutions in the market today," said John Dyck, CESMII CEO. "We're excited to engage with this visionary team at Flow, and work together with them to accelerate the adoption of Smart Manufacturing."
About CESMII
CESMII – the Smart Manufacturing Institute – has a total investment of $140M from Department of Energy funding and public/private partnership contributions, with a mandate to create a more competitive manufacturing environment here in the US. CESMII is one of 17 Manufacturing USA institutes on this mission to increase manufacturing productivity, global competitiveness, and reinvestment by increasing energy productivity, improving economic performance and raising workforce capacity. University of California at Los Angeles (UCLA) is the program and administrative home of CESMII.
About Flow Software, Inc.
Since 2018, Flow Software has provided a no code/low code, open architecture modeling and configuration environment built specifically for manufacturing operations to transform OT and IT data sources into analytics-ready information. Flow includes everything its customers need to model, connect, transform, visualize and bridge the gap between data and decision making in a scalable, repeatable way.
SUBSCRIBE to our Complimentary Publications: