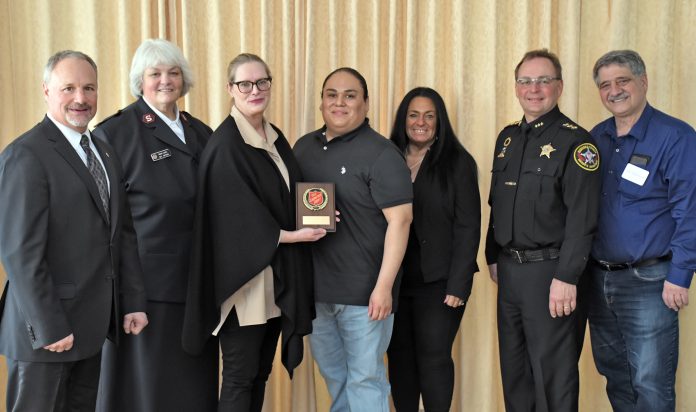 Centrisys/CNP, Kenosha, Wisconsin is proud to announce that they have been recognized for their charitable contributions by the Kenosha Salvation Army. Centrisys was awarded the 2019 Other's Award Recipient in the category of "Resources Supporting Others." Jim Andresen, the company's COO said, "By May 2019, the Centrisys/CNP employees will have contributed over $15,000 to the Salvation Army and the company matches match all of our employees' contributions dollar-for-dollar."
Established in 2017, Centrisys Cares is the company's charity. They support the Salvation Army through two programs, Youth Program and Recreation Program and the Disaster Relief Services. Every year in May, the company hands over checks to the Salvation Army for the two programs.
The award ceremony, entitled "2019 Other's Luncheon," was held March 9, 2019 at 12 pm at the Bristol Oaks Country Club. Each award recipient received two complimentary tickets. Centrisys was represented by Jan Mosele, marketing assistant and Carlos Contreras, the HR manager at the company. All the winners received a plaque and had their picture taken. Commenting on the award, Mosele said, "We were thrilled to accept this award on behalf of our generous employees at Centrisys Corporation. For the past 20 years, Centrisys has been very proud to call Kenosha home, so we knew we wanted to sponsor a local charity and selected the Salvation Army." She concluded, "It is truly an honor to call the Salvation Army our partner in giving."
About Centrisys Corporation
Centrisys Corporation is a U.S.A. manufacturer of dewatering centrifuges, sludge thickeners and complete dewatering systems for municipal and industrial wastewater. The company's focus is centrifuge equipment, including the award winning THK sludge thickener. Centrisys provides global service, repair and parts for all brands of centrifuges. CNP – Technology Water and Biosolids designs and supplies nutrient recovery and biosolids treatment optimization systems. CNP's key technologies are: AirPrex® and CalPrex™, phosphorus recovery technologies, and PONDUS™, a Thermo-Chemical Hydrolysis Process (TCHP). CNP is a division of Centrisys Corporation.
Centrisys/CNP
9586 58th Place
Kenosha, WI 53144
P: (262) 654-6006