American Punch Company Launches Comprehensive, New Website
American Punch Company proudly announces the launch of their new website. The new site features their extensive line of punches, dies and shear blades for the metalworking and structural steel industries. The site presents the tooling in a clear and organized manner that allows the visitor to easily search through an extensive database to find the exact tooling needed.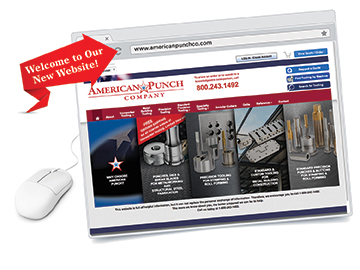 The custom search function allows a user to search for tooling by part number, machine make or machine model number. In addition, the user can create an account to keep track of purchases.
This website is loaded with features and information such as a tonnage calculator, clearance chart, and setup tips to make punching easier and more productive.
The American Punch Company also supplies precision die components to the stamping, roll forming, metalforming and metal building industries. Their flexible world class manufacturing capabilities allow American Punch Company to meet any schedule. American Punch Company welcomes you to log on, explore their site and find out how you can receive free shipping on your internet orders.
About American Punch Company
American Punch Company was founded by Bill Olson and his son Bob in 1990. Both had worked in punch and die manufacturing for decades. Bill served as the president and CEO of Cleveland Steel Tool from 1969 until his retirement 1986. Bob started his career at the same company in 1977 – first as a draftsman, then moving into sales, and eventually becoming Vice President of Engineering.
American Punch takes customer service very seriously. We think communication is the key to great customer service. This website is full of useful and helpful information, however it only covers a portion of what American Punch can do. More than half of our manufacturing facility is set up to make customer- specific tooling, made to your specifications
.
Since our focus is long term growth, we believe the core ingredients to all working relationships is trust and communication. This is why we encourage you to call us. Nothing can replace the personal exchange of information. Many questions you have may seem complex and unusual but chances are, we've seen it before and know how solve them.