"A La Carte Automation"
Flexible "A la Carte" Automation means pairing the most cost effective part feed system, part loader and secondary operations together for the application. ACE "A La Carte Automation" will be located in the Koyo Machinery Booth N-7347 at IMTS, September 12-17, 2016 in Chicago.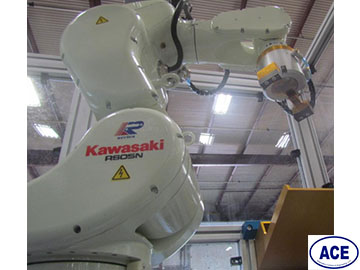 This could be a GANTRY or ROBOTIC load/unload system, combined with an appropriate part feed system, such as pallet conveyor, tray or wire basket feed system, belt conveyor or tray/fixture slide drawer. Then add those pesky secondary operations like part cleaning, gaging and laser marking to create your cost effective "A la Carte" material handling system!
Automated load and unload for Gear and Shaft Machining, CNC's, Grinders, Broach Machines, Injection Mold machines, Assembly Machines, or pretty much any type of machine!
About Automation Controls & Engineering, LLC
In today's rapidly changing markets, the ability respond quickly and to reuse equipment is imperative. With ACE systems, your company maximizes its capabilities by using each part for a multitude of functions. Product upgrades, or new products, don't require new machines or components. Our Modular systems give you the ability to introduce products into existing system solutions. You can reuse assets, meeting cost restraints and minimizing environmental impact.
As new products emerge or production volumes increase, reconfiguration of a ACE system is immediate. Or, as a product becomes obsolete, your system is easily repurposed.
For more information, visit www.ace-automation.net.