The collaboration between the state of Alabama, Alabama Community College System, AIDT, and robotics industry leaders across the nation lead to the opening of the Robotics Technology Park (RTP), which broke ground back in 2014.
This April, the Alabama Robotics Technology Park (RTP) will host the 2016 National Robotic Arc Welding Conference. This three-day event, starting on April 11, will cover topics ranging from general robotic interfacing to an introduction on Cognex's own Machine Vision. With RTP's three individual training facilities, each with focus to a specific industry need, makes it the perfect location to host this annual event.
Demonstrations
Fronius will exhibit their robotic interface solutions. Known for creating new technologies from monitoring and controlling energy in battery charging systems, welding technology and solar electronics, Fronius is also a sponsor of the event.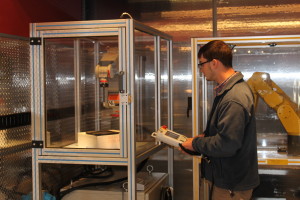 During the conference Cognex's Machine Vision will be demonstrated. A system of lenses and sensors, Machine Vision devices capture and analyze visual information to further automate tasks that require something to be seen.
Yaskawa America will demonstrate the implication of sensors for robotic welding, and how tactile and non-contact sensors can help a robot locate parts whose location may not be specific. Yaskawa will also exhibit robotic spot welding with servo guns, and showcase a new device to help simplify robot programming.
ABB Robotics will be on hand asking the question "Can GTAW (TIG) Process Outperform GMAW (MIG)?" TIG welding is an arc welding process that uses a non-consumable tungsten electrode to produce the weld. They will share their understanding of the principles to better create and understanding for attendees of how this process should be perceived while providing practical applications and implementation of GTAW processes.
Miller Electric MFG will highlight how the decreasing cost of laser power and fiber delivered one-micron wavelength lasers has made switching to robotic laser welding more profitable. They will also demonstrate their Active Wire TAWERS Solution for welding sheet metal. This process allows welding on sheet metal with extremely low spatter with very smooth arc starts.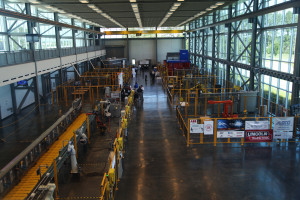 FANUC's presentation, which includes videos, a review and a question and answer segment, will cover the topic of selecting the right application, the benefits and advantages involved with the selection process, including safety, space, hardware, software, and programming.
Speakers
Kyle Anderson, Project Manager of Wolf Robotics, will focus on the importance of safety in dealing with large part manipulation and heavy welding and how skillful offline programming and large positioning equipment help keep customers' factories safer.
Other speaks include Chris Anderson, Associate Chief Engineer of Yaskawa Motoman; David Schaefer, Product Specialist of Miller Welding Automation; Jeffrey Noruk, President of Servo Robot Corp; Kay Safety's Vern Mangold, and Josh Williamson, Fonius' Robotics Segment Manager.
Pricing
For AWS members, pricing for the conference is $395, or an extra hundred for nonmembers. That includes access to all of the tours and a lunch. Thanks to the American Welding Society, high school students can also attend free on day one of the conference. Students will have the opportunity to interact in welding applications with the area's foremost welding professionals and factory representatives. The price for the remaining two days for students is $50. Both students and attendees will gain practical experience and this gives an opportunity to openly discuss with experts in the field of robotics while having access to the latest technology.
Tours
Day one will feature tours of Brose, who manufacture electronically commutated motors or door and seat systems as well as Navistar. On the second day of the conference, attendees will tour Alabama Cullman Yutaka, a Tier 1 manufacturing facility for Honda Manufacturing, and Topre America Corporation, a supplier of oil pans and metal insulators both in Cullman, Alabama. While GH Metals, located in Fort Payne, and Sanoh-America Inc., in Scottsboro, will be toured on the final day of the conference. All tour locations have the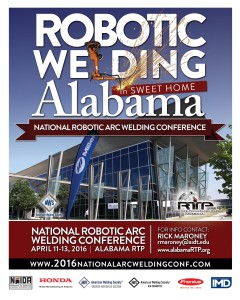 option to exclude competitors, and if tours are full, attendees can register for the conference without tours for a $100 discount.
About the AWS
Advancing the science, technology, and application of welding and allied joining and cutting processes worldwide: that's our mission and it's why we exist. Whether you're here to explore membership, certification, advanced training, updated standards, conferences, professional collaborations or the many exciting career opportunities in welding today – we are here to support you. Count on AWS for the leading-edge industry knowledge, resources and tools you need to achieve even greater business and career success.
 For more information, visit www.aws.com
For more information on the 2016 National Arc Welding Conference, visit www.2016nationalarcweldingconf.com
For more information on the Robotics Technology Park, visit www.alabamartp.org