A necessity for future growth, supply chain resilience is more important than ever. Large-scale disruption during the global pandemic exposed production bottlenecks, indicating key areas for both process and equipment improvement. Add in the ongoing complexity of consumer specifications, and companies continue to scramble to achieve more with less, meeting stringent requirements. From factory space restraints to skilled labor shortages, hard realities permeate the industrial landscape.
As a result, company leaders continue to look for proven solutions to bolster operational efficiency and product quality to effectively fill orders. A growing asset – especially for e-commerce fulfillment in both manufacturing and distribution spaces – robot utilization is now the advanced technology "go-to" for quickly adapting to the surge in demand for on-time delivery. Nearly 50% of supply chain leaders admit to accelerating investment in advanced technology, including robotic automaton1. Fast-tracking the growing digital supply chain, this adoption facilitates more responsive and forward-looking operations.
Highly influential to factories and warehouses in recent months, is the use of scalable robotic automation. With almost 80% of distribution centers operating manually with a limited labor pool2, the successful integration of flexible easy-to-use robots has the potential to provide companies with an attractive return on investment (ROI). Especially true for material handling applications, the robot segment for the Automated Material Handling Equipment Market continues to be a front-runner in market size for installed automation tools3, and companies that fail to take advantage of advanced robotic technology run the risk of falling behind in today's high-mix, low-production industrial landscape.
Value Added Logistics Tasks
To better facilitate the goods to consumer process, savvy company leaders are targeting prime areas that have the potential to benefit from highly reliable robots, creating more dynamic fulfillment environments. Fixed automation layouts with task-specific machinery are giving way to flexible automation options with more adaptive technologies.
Fast, compact industrial robots are transforming many primary and secondary requirements, while higher payload extended-reach models are optimizing end-of-line tasks. Designed to work safely with or alongside humans, highly portable easy-to-program collaborative robots are also facilitating extremely productive workspaces, enabling fast deployment and redeployment on demand.
Top Logistics applications include: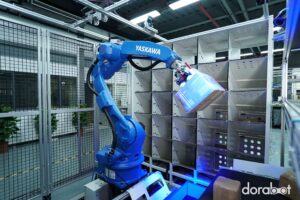 Parcel Sortation
Perhaps the greatest need for robotic automation, where the supply chain is concerned, is for parcel sortation. Manually identifying and processing items such as boxes, envelopes, and polybags (typically from a conveyor) for sorting or further diverting to a specific destination is tedious and injury-prone work. This can lead to sorting inaccuracy. By transferring manual operations for pick and place tasks to automated areas that can accurately manage the high volume of parcels required, companies can save valuable time and resources.
Whether being implemented for bulk receiving of items, converting bulk flow of items into singulated flow, or sorting and redirecting parcels according to a destination, extremely accurate and agile robots can make a transformative difference for this highly repetitive task. Innovative companies often blend intelligent 3D vision and artificial intelligence (AI) with robots to create advanced sortation solutions, solving unique order fulfillment tasks in real time with minimal human intervention.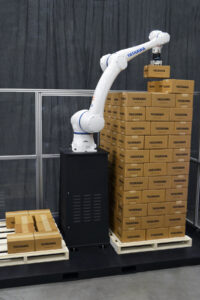 Mixed-Load Palletizing
Often an ideal place to start for robotic implementation in distribution and logistics settings, this extremely repetitive application accommodates demand-driven loads. Capable of handling and stacking multiple Stock Keeping Unites (SKUs) onto a pallet, robotic mixed-load palletizing, maximizes pallet density for increased capacity. While the palletizing of homogenous layers of any single SKU is quite common, the palletizing of mixed SKUs within a layer – where dissimilar packages such as boxes, bottles, polybags and more are used – is quickly gaining traction for manufacturers and distributers of all sizes.
Enhancements in advanced technology enable the application of robotic vision, machine learning and AI with software intelligence, making robotic arms more adaptable and perceptive for palletizing tasks. This utilization of intuitive tools and pallet pattern generation software makes palletizing easier, calculating the optimum number of unit loads (or pallets) that can be created from the pick sequence of an order fulfillment. Product characteristics drive the pallet build algorithms which correlate data such as sequence and orientation of the packages in relation to the robot and gripper coordinates. Highly intelligent, the software helps place large, heavy products on the bottom of pallets, while small, lightweight objects are placed on top of loads.
In short, user-friendly software creates more flexible palletizing systems that can improve worker safety, order accuracy, product quality and throughput capacity for adapting to dynamic industry change. Overall handling and shipping costs, including carrying costs per SKU, are also typically lowered. While no single mixed-load palletizing system is a one-size-fits-all solution, implementing one can provide the process speed and reliability that many operations are currently seeking, even for harsh working environments.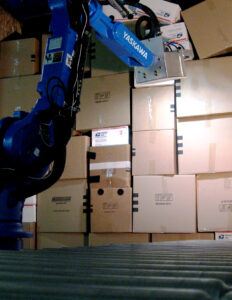 Truck Loading / Unloading
Whether for delivery or facility-to-facility distribution, truck loading and unloading thrives on organization. Once a chaotic process, the transfer of packages to and from a vehicle (or vice versa) is easily facilitated with the appropriate robot and peripheral tools. Because of the variety in package sizes and types, it is extremely important for decision makers to work with an experienced robot supplier to plan the system accordingly.
A long-reach robot capable of reaching the entire volume inside the truck to retrieve or place packages is ideal. Proper end-of-arm tooling (EOAT), a capable vision and processing system, as well as a suitable conveyor system, can quickly, accurately, and ergonomically handle packages. Highly important to facilitating the loading and unloading process, robotic automation's ability to stack sorted packages in an organized Tetris-style manner for transport is a competitive edge game-changer.
Supply Chain Success
The shift from mostly manual operations toward smart robotic automation solutions simplifies processes, providing transformative benefits and productivity gains. Add in the use of standard programming environments and enterprise resource planning (ERP), and decision-makers are better positioned to navigate supply chain struggles.
Motion Control
Eliminating the need for proprietary language, motion control platforms or Programmable Logic Controller (PLC) solutions, provide a standard programming environment to ease robot setup through simplified communications. Tools like the MLX300 controller software, for example, increase production through Singular Control™ of multiple mechanisms including industrial robots, servo systems and variable frequency drives. This offers a user-friendly approach to automation that empowers companies to tackle dynamic packaging and distribution requirements.
Asset Management
The use of enterprise resource planning (ERP) or integrated asset management for more informed decision-making throughout the value creation chain helps decision-makers navigate supply chain struggles. Proven edge server solutions that use a leading OPC-UA interface, like Yaskawa Cockpit™, support multiple brand devices and collect information in real-time to enable data-driven optimized planning. The ability to see what is occurring at any point along the value creation chain is extremely advantageous to unifying critical business functions. Aspects such as finance, inventory, manufacturing, and order fulfillment can be easily managed, translating to greater productivity and cost savings.
Robots and their peripherals are strategically designed to integrate with existing machinery and systems bolstering confidence in decision-makers that are fearful of drastic equipment overhauls. Companies ready to move forward should follow a clear strategic plan and work with an experienced robot supplier or integrator. Not only can this relationship serve as a guide for selecting and integrating the proper robotic workcell, but also, it provides a line of communication with an expert where robot training and maintenance are concerned, positioning companies for future growth and a stronger ROI.
About Yaskawa Motoman
Founded in 1989, the Motoman Robotics Division of Yaskawa America, Inc. is a leading robotics company in the Americas. With over 500,000 Motoman® robots installed globally, Yaskawa provides automation products and solutions for virtually every industry and robotic application; including arc welding, assembly, coating, dispensing, material handling, material cutting, material removal, packaging, palletizing, spot welding and clinical laboratory specimen processing. 
SOURCES:
Innovation Driven Resilience, MHI, 2021
The Business Case for Robotics in Distribution Centers, Honeywell Intelligrated, 2020
Automated Material Handling Equipment Market Worth, MarketsAndMarkets, 2021