In the robotic automation community, it is quietly understood that it takes a "village" to build and sell a robotic system. From piece part fabricators and peripheral suppliers to robot manufacturers and automation integrators, a strong supply chain paired with a highly skilled network of professionals is integral to a successful end user robot experience. For Yaskawa America Inc. – Motoman Robotics Division (Yaskawa Motoman), the sentiment is the same; it takes a dedicated team of experts throughout the organization to execute a strategic plan that yields and maintains high-quality robotic systems for long-term customer success.
Helping to make this happen is a growing internal workforce of women. Part of the 30% percent of women that make up the advanced manufacturing workforce1, these talented professionals specialize in unique fields, enabling the design, assembly, implementation and support of robotic systems. From leadership positions to hands-on assembly, every role is significant to empowering customers along their robotic automation journey and achieving maximum return on investment (ROI).
For Supervisor of Standard Engineering, Lisa Tidball, the project load at Yaskawa Motoman brings something exciting and interesting every day. "I come from a family of many engineers, and I grew up knowing that's what I wanted to do," states Tidball. "Being able to troubleshoot issues, evaluate new designs, and conduct product testing in a manufacturing setting is a lot of hard work come to fruition." Her experience as an Engineering Co-op with Yaskawa Motoman during college, as well as her Mechanical Engineering degree and Supervisory Leadership training through the University of Dayton (UD), influence every aspect of her job – enabling her to multi-task and manage her dedicated team while executing diverse project deliverables.
With her last name stemming from a Slavic word variant that means robot or physical labor, Manager of Partner Business Development, Jean Rabatin, was destined to be in the automation industry. Inspired by her father's thirty-year career at General Motors and his interest in hot rods, Jean's affinity to work in manufacturing began at an early age. From tearing apart and reassembling big block Chevy motors in the garage to working at a steel rolling company out of high school, her curiosity for the way things are made continues. With over two decades of sales and management experience in industrial automation, as well as a degree in Organizational Administration, she strives to connect with strategic partners to fulfill Yaskawa Motoman's mission: to efficiently deliver high-quality innovative robotic solutions that help customers and partners to be competitive globally, while providing the highest level of customer satisfaction in the automation industry. With a keen understanding that the industry is always changing, her best advice to other women is, "Not to assume manufacturing and automation are places for only men. There aren't many ladies in the industry, but the ones that stick around definitely make an impact." And, that is exactly what Jean continues to do through her work. Her dedication to innovation and continuous improvement is inspiring, helping partner companies assist end users in reaching their full potential.
Process Engineer, Mikayla Wear, started her journey to robotics in seventh grade when her science teacher started an all-girls FIRST LEGO robotics team. Igniting her innovative spirit, Mikayla continued to pursue her passion, receiving a diploma in Mechatronics and Robotics from a career and technology center in southwestern Pennsylvania. While earning her Electrical Engineering degree from the University of Dayton, Mikayla completed an R&D summer internship through the UD Yaskawa Motoman Robotics Lab, as well as a Technology Advancement Co-op with Yaskawa Motoman, where she now builds and maintains tradeshow workcells and customer demos. Providing internal and external technical support, when necessary, is also part of her daily routine. When asked what her advice would be to young women looking to break into the industry she says, "Have a plan for what you want to do for your life and don't do the bare minimum – get out there, find opportunities and grow your skills." Mikayla has done this and leads by example every day, encouraging her coworkers to mature their knowledge and skills.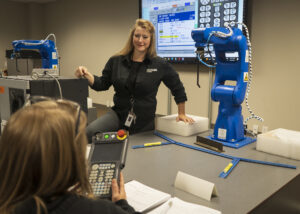 After nearly a decade with Yaskawa Motoman, Assembler of Component Assembly, Sharon Moeller, is still glad she came to a crossroads, where she decided to pursue a career in manufacturing. "I tell people that I went from ribs to robots," offers Moeller. "I wanted a change of pace outside of the restaurant industry, so I applied at Yaskawa – which has been a great fit." Daily, Sharon assembles wire for the robots and positioners that are typically integrated into larger robotic workcells. While she had no prior robot knowledge, the company provided the training needed to execute her job well. Today, Moeller assembles hundreds of wire types used in robotic systems and works alongside a team of assemblers that are integral to the production of Yaskawa robots.
Enjoying the change of pace her manufacturing career brings, Materials Coordinator, Stacy Moeller, helps maintain fluid production. Responsible for scanning and picking parts for the production of sub-assemblies, positioners and interfaces, she is meticulous about her work. With this in mind, she has also taken on the responsibility of cycle count (aka: inventory), where she goes through every storage bin and drawer on a regular basis to ensure all parts are in their proper place. "My transition from working in the medical field to manufacturing has been a good fit," says Moeller. "For me, it is less mentally and emotionally trying." With the American robotics market continuing to show strong growth2, Stacy continues to stay busy walking nearly three miles a day while pulling parts.
For Manager of Quality and Methods Engineering, Dana Halverson, it was her love for math and science that prompted her to pursue a degree in Mechanical Engineering from The Ohio State University. "I have always enjoyed seeing processes come together to produce products," says Halverson. "My engineering degree trained me to think and problem solve, providing me the ability to do many different things." With twenty-plus years of experience as a quality manager in various industries, Dana manages an internal team that is responsible for maintaining Yaskawa's ISO quality management system, as well as labor calculations for parts and assemblies. On any given day, she can be found seeking root causes and resolution for quality issues related to processes and components, so that short- and long-term corrective actions can be implemented, as needed.
Upon seeing her first robot in a factory, Robotics Instructor, Samantha Jarmusevich, knew she would one day pursue a career in robotics. After various operator, quality inspector and skilled trades positions, such as metal finishing and rework, she took it upon herself to attend college and become a certified welder in MIG, TIG, SMAW, OAW and OFC-A welding methods. Her drive to learn more about robotic programming prompted her to register for a Yaskawa Academy class. "I paid out of my own pocket using my vacation time to attend a DX200 Basic Programming with Coordinated Motion class," says Jarmusevich. "That course opened a door of opportunities in my life that I will forever be grateful for." In fact, this training paved the way for her current job at Yaskawa Academy – Yaskawa Motoman's IACET-accredited robotics training facility located at the company's Miamisburg, Ohio, headquarters. From Basic and Advanced Programming (with or without arc welding), Maintenance and other specialty classes Yaskawa offers, she puts her passion for teaching to use, passing her robotics and welding knowledge onto end users on a weekly basis.
The Future of Women in Automation
As the robotic revolution unfolds, women will continue to break barriers and have an undeniable impact in the field of automation, especially as the skills gap grows. Likewise, this door of intriguing opportunity, and a satisfying change of pace for many, will continue to attract diverse, intelligent and capable female talent to design, manufacture and sell robotic systems. Just as these individuals (and many more) have worked hard to pave their own paths, the next generation of women is primed to follow in their footsteps. With more STEM-centric activities and workforce development education available, getting started on a career path to manufacturing and robotics is easier than ever. Those interested in pursuing a career should not hesitate and reach out to local schools or companies that can offer guidance.
By Sarah Mellish – Marketing Content Specialist, Yaskawa America Inc. – Motoman Robotics Division (Yaskawa Motoman)
Making a Place for Women in Manufacturing, U.S. Department of Commerce, 2021
Robot Sales in North American Manufacturing Up 12 Percent, IFR 2023