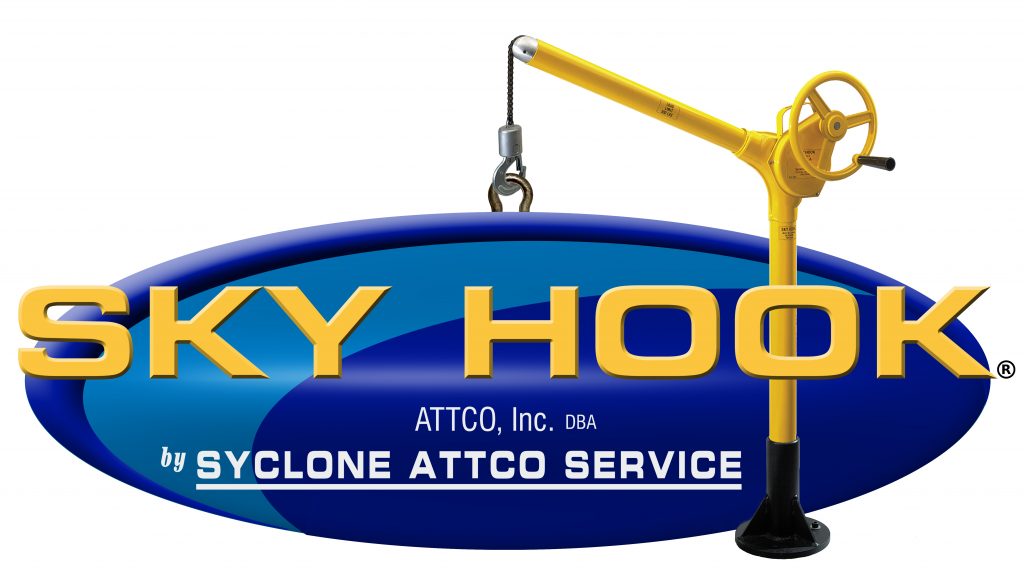 P.O. BOX 458, Emmett, ID 83617
Based out of Idaho, Syclone ATTCO Service DBA ATTCO, Inc. is a lifting solutions manufacturer of small, portable lifting devices known as Sky Hooks. In business since 1969, Syclone ATTCO Service has developed a niche for solving unique lifting problems in awkward, hard-to-reach applications. With the lightest unit weighing less than 26 lbs. Sky Hooks are available with a range of base options which include dovetail tool holder mounts, bench mount, floor mount, and an array of mobile bases. Following standards set by OSHA and ASME, Syclone ATTCO works with customers to create solutions based on their needs. CE marking is available for custom Sky Hook designs upon request. With excellent customer service and a powerful design team, we can create results that not only have the ability to prevent lifting injuries but also improve operational efficiency. The Sky Hook industrial lifting devices are customizable to create the very best lifting solution for unique lifting applications. Syclone ATTCO Service can make any small portable lifting solution idea or concept a reality."
Sky Hook industrial lifting device fills the gap between the simple chain hoist and the massive overhead gantry crane. With more companies implementing mandates restricting individual lift limitations to 30-35 lbs., Sky Hook is the answer and your personal lifting companion that's portable and easy to use. Weighing as little as 23 lbs. the Sky Hook lift can safely and efficiently provide a custom or standard lifting solution up to 500 lbs. Hence, doing the work of 4 people with a simple one-hand operation.
With our comprehensive lineup of fixed and mobile bases, you're sure to find the lifting solution you've been looking for. See something that's close but not quite the right fit? You're in luck because over half of our business comes from efficiently and affordably customizing the Sky Hooks to best fit our customers' applications.
The Sky Hook is your personal lifting solution, preventing lifting injuries while saving you both time and money!
Visit our New Website https://SkyHookMfr.com for additional details.