Ever heard of thermal stratification? If you've had a chocolate bar, or you've had a glass of wine it is a high probability that the product you consumed came from a facility that is completely familiar with temperature gradients and the thermal differential between the bottom shelf of storage and the top of shelf storage. The items on the top shelf in the storage facility were probably subject to higher temperatures than the items on the lower shelves. And when the wine was fermenting in barrels, many producers choose to rotate barrels in storage so that the average temperature that the barrel is exposed to is more consistent and wine quality is more predictable. A lot of energy is expended to keep the products rotated – what about solving the problem directly?
Ah, we just hit on one of the sweet spots for Big Ass Fans. Admittedly when I ventured down this path to understand the science behind a Big Ass Fan, I had no idea what to expect. I saw products for industrial and commercial applications with pretty significant wingspans. I knew a friend that actually purchased one for his home. Since this is an industrial focused magazine, I wondered whether our readers would be interested in Big Ass Fans – it took me 10 minutes of reading case studies to realize this isn't a company that sells fans. It is a company that sells airflow solutions that solve thermal and occupant comfort problems.
Big Ass Fans is based in Lexington, Kentucky and employs 625+ people globally. My understanding is the original name was "The HVLS Fan Company" and the company started by cooling areas for dairy cows. The company now addresses airflow issues related to comfort or thermal challenges like the temperature differential issues described above in commercial, industrial, or residential settings. Everything from "it's hot in here" to loss prevention on storage solutions are in the scope of applications that Big Ass Fans addresses.
We talked shop with Andrew Koukis, who has been with Big Ass Fans for about 7 years in a variety of roles. His experience includes residential sales, industrial sales, inside sales, outside sales, and product management of BAF industrial fans and BAF residential fans. Currently he is the GM for the Industrial fan business, and brings to our discussion a view that comes from working with all the different groups within the Big Ass Fans' organization, whether it be marketing and sales, or engineering and the operations team including manufacturing and logistics.
Generally we reserve Talking Shop for a 1:1 discussion, however in this case I wanted to also bring to our readers an understanding of the science and engineering that is being brought to bear when applications of the products are being designed to solve real world problems. David Rose is a 7.5 year veteran at the company, and uses his Mechanical Engineering background to solve problems for clients. He manages the applications engineering group and is responsible for developing and proving new applications for Big Ass Fans products. Anytime someone calls with a non-mainstream problem, David's group is called upon. David's group includes 8 other MEs that design tests, unique applications, design guidance documentation, and perform simulation and analysis on their solutions (including computational fluid dynamics, heat balance energy modeling, thermal imaging, and thermal transfer analysis). He most recently took on the role of Product Manager for BAF's industrial HVLS product lines.
Going To Market
Trey: I see that one important objective that you guys have is to positively impact the work environment. I also see that there are situations where in the industrial chain of product creation or a line in a factory where you can have specific solutions that may be required to modify or reduce the temperature as an item moves from one work center to the next, maybe because it has to be handled differently. I saw this example in your white papers with these tow hooks that were a case study where heat maps had been prepared and some thermal analysis performed. How do companies engage with you for these projects? What are the lines of business that you have? How are you organized in terms of going to market?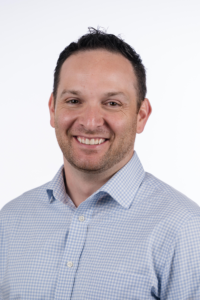 Andrew: From a business perspective, organizationally we have 5 different segments. We have an Industrial segment that comprises about 70% of our revenue, and that business is focused on a direct to industrial consumer, or B2B model. We have an Aftermarket group which is focused on providing aftermarket parts and customer service, that employs over 20 customer service representatives here in Lexington, Kentucky and are focused really on providing the best service in the world. Our net promoter score is 82 or above and if you look at our annual averages, this score is absolutely world class. People like Amazon, Apple, and Tesla are in the 50s and they are considered the best. When I say the men and women in our customer service team are the heart of our organization, I think everyone in the company would agree with that. Their technical aptitude is through the roof and they take care of the customer every single time. That could mean flying to some far off country, to fix 800 fans that were installed incorrectly, which is something we have done. We do that on our dime.
We have a New Construction business which is primarily focused on industrial and commercial spaces and works through some of the best industrial equipment partners in the world.
Trey: That's probably what you would consider to be Design/Build services right? The customer is designing the climate systems for their environment, and you are identifying what kind of role the Big Ass Fans can play to make the environment more efficient, more energy efficient maybe, and more human efficient in terms of impact you can have on the workers in the facility. Right?
Andrew: Exactly. And that is a new arm of our business. I would say probably 6-7 years ago it was something that we were not interested in at all, we were entirely just B2B. So, it is an expanding and new arm for us. It's something that has been beneficial to us from a revenue perspective and also from an awareness perspective. We think everyone knows what a Big Ass Fan is, but in reality there are plenty of people that don't know the benefits of High Volume Low Speed fans in general, as a product category.
Another portion of our business, which is certainly not as well known but that we really take pride in, is our Residential business. We have about 80-90% of this business as B2C via third party channels or our direct ecommerce channel. We have 13 inside sales representatives, which allows any consumer to pick up the phone and call Big Ass Fans to order one Haiku for your home, or your interior designer to call and buy 10 Haikus for another place. It's an important part of our business and something we have had in our portfolio since 2012 and it has continued to grow and expand with additional product lines. We are certainly under-penetrated in that market, but we also sell a residential fan that can approach $2,500 where most fans from the large home warehouse stores that most consumers have in their homes are $150 or $200. So we really created that upper market.
The final segment that we have is our International business. That is a growing market for us. Certainly awareness of HVLS fans and airflow in general, really the importance of worker comfort, productivity, and safety across 7 different continents, is wildly different abroad than here in North America. However, that is a business that is a core focus for us and we have offices in Australia, Singapore, Malaysia and Canada, where they service their regions respectively.
Problem Statement
David: If I remember the question, it was how do we get to an engagement point with a customer that is trying to cool a tow hook that is coming out of an oven at 700 degrees Fahrenheit?
Trey: Right.
David: Whether it's tow hooks, employee retention, or looking to save money on energy bills because a customer looks down and thinks "Wow, energy has gotten expensive," or whatever it is, it always starts with a problem. Very few of our customers call and say they would like to purchase two of a very specific SKU and have them installed two months from now. It is a very different engagement than most B2B interactions are. We are really focused on the right solution.
So a lot of these customer conversations start with a problem. "My facility is too hot…", "My people are quitting in heat waves…", "My energy bill has gone up 30% because my cooling equipment just runs all the time now…". These large problem statements usually get passed from a sales rep to a dedicated application engineer with a specialty in the solution area. We are one of the only companies out there that have this type of specialized group and have handled these types of situations before. One differentiator is that we aren't making super special customized products for each problem.
If you were to engage a mechanical contractor, they would probably cobble together a very customized "Frankenstein"-type of machine that would be difficult to service and be lacking in reliability. We are really about engaging the problems, and presenting solutions that use the products we have developed.
Airfoils and Airflow
Trey: Tell me a little bit about the design of your airfoils without giving away any IP or trade secrets. It sounds like it is a lot like designing a wing.
David: It is, except that the wing is going through the air with a direct angle of attack and air is flowing above and below in relatively the same direction. We have to take into account and manage a certain rotary slip condition for our airfoils. The way that we do that on our products that are focused more on raw performance is a lot of winglet optimization [Ed Note: winglets are on the edge of the wing that help to manage smooth flow of air off the edge of the wing and are usually shaped like vertical fins on the edge of the wing]. One of ours right now looks a lot like an Airbus A320 winglet.
The other way that we do that is with what we call an "air fence". It is about the size of half a winglet, and about two-thirds of the way out on the airfoil. The air fence manages the slip condition and reduces some of the turbulence induced on the inner half of the airfoil. So, instead of the air slipping off the backend of the airfoil it is actually redirected to ensure it goes down to the floor where we are delivering impact. It generates a bit more thrust, more thrust means more airflow, more airflow means more happiness.
Trey: What are the volumes of air that you can typically move with one of your solutions? I know it sounds like it's big.
David: Yes it is quite large. For our 24 ft, which is our largest standard size (diameter) that we sell, and our premium product which is Powerfoil X4, that one moves an AMCA-certified 273,838 CFM (cubic feet per minute). That is quite a lot. So could you effectively zip tie 20 fans together and get to 270,000 CFM? Yes, sure. But the magic of HVLS fans is that 270,000 CFM is being moved by a 2.5 hp (horsepower) motor. That's it.
Trey: That's awesome.
David: Yes. And I would say, about the design process, one of the things that separates Big Ass Fans from not only other manufacturers of HVLS fans, but also other manufacturers of mechanical equipment at large, is that everything on our premium fans is designed to be on a fan. We aren't going out and just picking motors and gearboxes, we aren't picking NACA (National Advisory Committee for Aeronautics) airfoil shapes. That airfoil was iterated, designed, and tweaked until we were happy with how it performs on an actual HVLS fan. Same thing with the motor, the gearbox, the VFD (variable frequency drive). All of it is selected and designed in concert with our component manufacturing partners to make sure it is absolutely dialed to be on an HVLS fan.
Service, Support, and Safety
Andrew: And that exact point is reflected in our warranties. We have true industry leading warranties in that what we say is very up front. Up to 15 years "bumper-to-bumper," no questions asked. If something goes wrong, you call us and get us and it is on us.
David's point is something I want to reiterate. The design from our engineering team is a direct reflection of us wanting to ensure that safety and performance are the key elements of a Big Ass Fan at all times. The safety of the workers and their health is of vital importance. The airflow is great for that, but we will never compromise on safety, we will never compromise on quality. That's why we will spend 2 years and $5 million developing a motor in-house, then going to find a sourcing partner to make that motor. Our motors are our motors. We may not manufacture them but we design them. Our drives are our drives. Our Powerfoil D fans, we do the SMT (surface mount circuit boards) for them here on-site in Lexington. That is one of the big differentiators when we talk about design – we have the capacity, the personnel, and the acumen to do it.
Trey: So you do all the component placement from the component reels and do the soldering on the circuit boards?
Andrew: Yes on our PFD line.
Trey: These blades are big right? 24-30ft?
Andrew: That is the diameter. So the blades are 12-14 ft. on some of the larger units.
Trey: Still that is big. How do you make sure they are safe? Do you have sensors on the blades? How do you measure fatigue or stress or see stress fractures? It seems to me you are operating in environments where there could be significant temperature gradients to which your blades are being exposed, through different seasons, and eventually, I don't know the material they are made of but it seems like that could induce stress related failures. How do you measure those kinds of things, and how do you prevent them? How do you know when they are about to happen? What are the preventative maintenance indicators, and what kind of redundancy is built in for this huge 270,000 CFM device that is on the ceiling operating above my workers? How do I make sure I don't show up and find it on the ground one day?
David: Safety is something we don't compromise on, even down to our most economic offering. It has the same safety features as our most premium offering. Safety isn't something that gets value-engineered out at Big Ass Fans.
A lot of the airfoil stress can be mitigated through a proper hub design. Contrary to a lot of what people think, something very stiff also transfers a lot of stress. So our hub is not one piece of aluminum that we have machined out and have the airfoils attached to, but rather 12 or 13 different plates that are assembled together with hardware. What that allows the hub to do is to flex and move with the dynamic nature of those large cantilevered airfoils. The other thing is our spar attachment is more robust and that distributes the stress more effectively. Those designs are validated through simulation and real-world testing. We have a 40,000 sq ft R&D facility with all sorts of testing equipment.
In the case of an airfoil attached to a hub, we place it on something we call a shaker test. It is basically a vertical oscillator that takes the hub and shakes it up and down for millions and millions of cycles. That allows us to get a really good idea of what that fatigue and stress limit is for that assembly. Additionally to that, we know where certain applications are going to have more induced stress on those assemblies than others, and we have really well developed guidelines about fans and where they should be mounted, from our accumulated knowledge over the years. For instance, if you are located in Oklahoma, and have a building with no side walls, don't mount the fans exposed below an eve where you will routinely get 30-40 mph cross-winds.
Andrew: That is also the benefit of working directly with the end user. Not only does it drive safety improvements, and us being the first entrant into the market we had that benefit of learning in real-time, but it drives innovation and new products too. We hear from the customer what their problems are, we hear about new applications and the customer may want to do something themselves, and we say to them "don't do it that way, let us develop a solution for you." Our core innovation beliefs are to do it better than anyone else does, to do it safer than anyone else does, and provide a product that solves a problem in the real world, and all of that starts with safety.
Our AFRS, or AirFoil Restraint System, is effectively a seat belt for the airfoil. It connects to the hub and runs through the inside of the airfoil all the way to the winglet. In the event that something were to happen to an airfoil that was critical in nature, it would never make an impact with the ground. It would never fall from the fan and the associated engineered redundancies
Moving Heat
Trey: How much thermal transfer can I expect with 270,000 CFM of air being moved? When you design these solutions, how do you take into account thermal dissipation? What is the expectation someone should have for thermal impact?
David: The magic of it is I don't need to change the dry bulb temperature for occupants. That dry bulb temperature is what your wall thermostat reads. The airflow we are creating comes off the fan in a relatively vertical column and is being pushed at fairly high dynamic pressure such that when it hits the floor or target area, it spreads out. Imagine if you had a bottle of water and poured it over your dining room table. It would spread out in all directions and likely much further than you think it should from the 12 oz bottle you used. Being able to spread air like this, by using a relatively low power consumption, and that it can cover such a large area with airspeed is very important to the overall application. I mentioned airspeed there because it is a little different than airflow. Airflow, of course, we are talking about a volume of air per given time. Airspeed is how fast the air is moving across where your occupants are. And that airspeed is what provides the cooling effect to your occupants. That cooling effect is due to the evaporative heat losses due to your slightly wetted skin, and due to convective heat losses.
Trey: I get it now. You are providing a medium for moving the heat. You are not actually changing the temperature. It's providing the transport to pick up heat and move it away.
David: Yes, whether it is a tow hook or the human body, it is about how you define that system. We know if you define the system as the four walls and roof of the warehouse, the total energy in the warehouse is the same. But if we define the system as a worker that is 6' tall and 200 lbs, and we introduce them to 200 feet per minute of airflow, we know we are going to reject the energy equivalent of about 7 degrees Fahrenheit of thermal comfort to their body. They are going to be a lot happier than they were before.
Sensors and Data
Trey: Where does additive manufacturing play a role in your manufacturing process? Are the airfoils made through additive manufacturing?
David: There are no additive manufacturing techniques in production parts but we do use it extensively in prototyping and R&D work.
Trey: Do sensors play a role in the devices?
David: Sensors absolutely play a crucial role. Most importantly, BAF HVLS fan controllers like our premium controller BAFCon, measure air temperature and automatically adjust fan speed to continuously deliver thermal comfort even as conditions change. BAFCon also takes inputs from the variable frequency drive on the fan to relay any cautions/warnings/faults to the user and allows the fan to be reconfigured or reset from ground level. On the fans themselves, some of our products also have an accelerometer onboard to detect impact or imbalances caused by external forces. If these events are detected, the fan will adjust its speed or shut off to avoid damage.
Trey: Are there IoT integrations or monitoring on these fans?
David: We are developing an IoT system for industrial fans currently with targeted launch in 2024. Our residential products are supported by an IoT system and practically all of our products are routinely integrated into 3rd party building automation systems in both commercial and industrial spaces.
Trey: What role does analytics play in either the front end or ongoing support?
David: Data aggregated from connected fans and the users of our residential IoT system are turned into insights about thermal comfort preferences of different categories of users in various settings and conditions, and insights about how fans are actually operated in different types of spaces. These insights have been used to inform product development efforts in the past and in the future. On the industrial side, we're hopeful of the forthcoming IoT system being able to identify potential failures or issues before they occur and kick off a predictive maintenance event.
For More Information:
Big Ass Fans is an HVLS fan company based in Lexington, Kentucky. For more information contact trey@indmacdig.com or gretchen@bigassfans.com.