Walter Surface Technologies, the g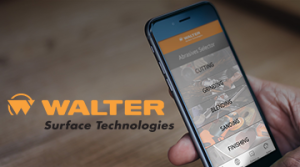 lobal industry leader in surface treatment technologies, announced today the launch of the new Walter Abrasives Selector app available for all iOS and Android smartphones.
The free app is designed to help metalworking professionals selectthe optimum abrasive solution for any possible application they may encounter.
Walter Abrasives Selector app highlights: 
Designed specifically for metalworking professionals, getthe best results inyour grinding, cutting and finishing applications by using the optimal abrasive and process based on specific job parameters.
The simple user interface makes the app easy to use. Selectthe operation (finishing, sanding, cutting, grinding or blending), specifyyour tool of choice, and select the desired finish.
Access technical reference data easily,includingsafety data sheets, training videos, and Walter product information. Save and email your configurations for future reference, or for ordering.
Download our App! Contest
Users can enter to win one of three $150 prepaid Visa gift cards after downloading the App.
Download the app.
Click "Contact Us" on the bottom of the home screen.
Email info@walter.com and keep the default mail subject heading.
Provide your contact information and promotional code "0101" in the body of the email.
The contest will run from February 9th to March 11th, 2016, with the draw taking place on March 14th.
The Walter Abrasives Selector app is available now on the Apple App Store (iOS 7.1 or later) or Google Play Store (Android 4.2 or later).
For more information on the Walter Abrasives Selector app, visit https://www.walter.com/en_US/media-center/apps.
About Walter Surface Technologies 
Walter Surface Technologies provides innovative solutions for the global metal working industry. From high performance abrasives, power tools and tooling to industrial parts washing systems, cleaners, degreasers and lubricants Walter focuses on helping its customers work better. Founded in 1952, the company is established in 7 countries throughout North America, South America and Europe. International headquarters is in Montreal and US headquarters is located in Windsor, Connecticut. Key certification and awards include ISO 9001: 2008, Wall Street Journal Award; Deutscher Material Preiz; American Eagle Award; CleanTech Cleaning Technology Award.  
Web: www.walter.com  
Twitter: @waltersurftech
Facebook: Walter
LinkedIn: walter-surface-technologies
YouTube: TheWalterNetwork