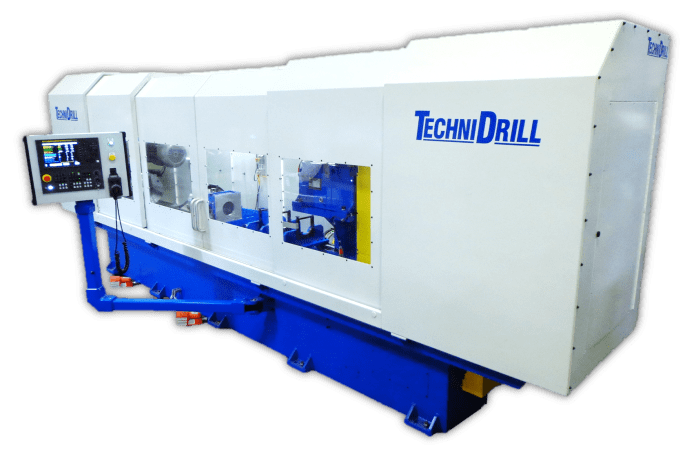 The TechniDrill 2.00-30-48 is a gundrilling machine used to manufacture airplane aileron actuation cylinders. The actuation cylinder starts as a solid bar. The gundrilling machine drills the large primary hole in a single pass, without the need for a pilot hole. Secondary processes are then utilized to finish the cylinder.
The TechniDrill 2.00-30-48 has a gundrilling diameter capacity of 2.0 inches (50.8 mm) and a maximum gundrilling depth of 48 inches (1219 mm). It features a 30 horsepower AC spindle motor and two-speed gearbox to provide versatile gundrilling performance. The workpiece is counter-rotated during gundrilling via pneumatically operated 3-jaw chucks, which increases the accuracy of the drilled hole.
TechniDrill gundrilling machines are designed and manufactured by Kays Engineering in Marshall, Missouri, USA.
About Kays Engineering
Kays Engineering manufactures DeHoff, Eldorado, and TechniDrill gundrilling and BTA/STS drilling machines. All machines are designed and manufactured in the USA.
All machines are built-to-order in our Marshall plant. We have customers in many different industries, including automotive, aerospace, medical devices, firearms, petroleum, agriculture, and plastic molding. We're proud that our machines, which are known for their precision and reliability, are used worldwide in 30 countries and 5 continents!
SUBSCRIBE to our Complimentary Publications: