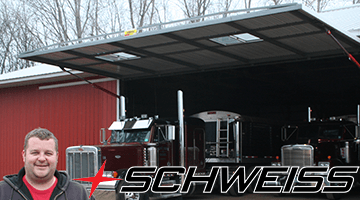 Stronger, easy-to-grease, wrap-around hinge provides better hydraulic door
A little homework and some personal experience led Chad Hoese to select a hydraulic door from Schweiss Doors when faced with the replacement of the sliding doors on an existing building at Stoney Creek Farms in Glencoe, Minn.
Stoney Creek Farms covers 2,500 acres, producing corn and soybeans. It's also home to 60 dairy heifers. Hoese, 29, took over the farm when his father passed away five years ago.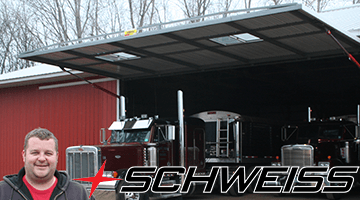 Ten years ago, Schweiss installed a bifold door on a larger machine shed at Stoney Creek. That door, measuring 44 x 16 feet, originally operated with a cable lift system, but has since been upgraded with the company's liftstrap conversion kit. "Three or four years ago we had Schweiss do the strap conversion and we now have the autolatch with straps instead of cables," Hoese says. "We had trouble with springs breaking and cables winding up. The straps are so much superior to the cables."
So when Hoese started researching options for replacing the sliding doors, Schweiss Doors was on his list. "I did a little homework and learned about what worked and what didn't work," he says. "There's a lot of stress on the hinges of hydraulic doors and I saw some pictures showing hinge failures. The Schweiss system provides the quality and safety I was looking for."
Hoese says he would have put another bifold door on this building but needed all the headroom he could get for a sidewall door. "For this new door, hydraulic with the self-supporting header and new wrap-around hinges was the way to go," he says.
The Schweiss one-piece hydraulic door, measuring 29.1 x 14 feet, was installed in October 2015 on an existing woodframe shed that houses two semi-trucks and other equipment.
"We promote our new wrap-around hinge as 'robust,'" says Mike Schweiss, president of Schweiss Doors. "We've heard it was over-engineered, but I don't know if that's possible. Either way, we think that's better than being under-engineered."
Schweiss doorframes are designed with double push tubes that are tied directly into the wrap-around hinges that connect both vertical push tubes directly to the header tube. The advantage of double push tubes is that forces of hydraulic cylinders are evenly distributed to the doorframe and the wrap-around hinges.
"There have been hydraulic doors with hinge welds that failed, literally tearing off the doorframe and destroying the door," Schweiss says. "Our design team provided a more durable wrap-around hinge with grease zerks that are accessible without removing the top rubber seal."
Hoese says the combination of durability and simple maintenance sold him on the hydraulic door with the easy-to-grease hinge from Schweiss Doors.
Hoese said he helped with the hydraulic door installation and the Schweiss Door crew came out to finish it off. He measured the opening himself, did some welding and pre-hung the door. He got the tin off the old door in a couple hours to prepare for new exterior cladding and said the entire installation probably took about eight hours. When the door arrived his measurements were right on the money.
"Mike was helpful with suggestions," Hoese says. "On the inside we ran some braces back to the headers. He encouraged me to get the new wrap-around hinge. It really works well. I'm not a door expert, it looks good and works smooth; the grease zerks are really great and the pump works well. I would recommend doors from Schweiss Doors."
Schweiss Doors is the premier manufacturer of hydraulic and bi-fold lift-strap doors. Doors are custom made to any size for any type of new or existing building for architects and builders determined to do amazing things with their buildings, including the doors. For more information, visit www.bifold.com.