Crane Doors from Schweiss Provide Efficiency for New Structure
Two hydraulic crane doors help CAID Industries save money, time
A pair of large Schweiss Doors hydraulic crane doors were a key component in the erection of a new metal building designed to house two 30-ton, 60-foot cranes and two 20-ton, 43-foot bridge cranes.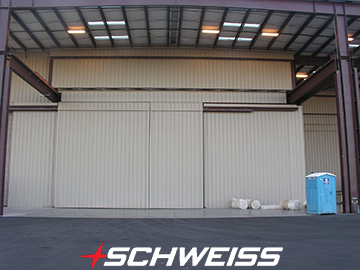 Fast Fab Erectors Inc., of Tucson, Ariz., took on the project for CAID Industries at its 25- acre compound, also in Tucson. "Fast Fab has built every building, addition or modification to the CAID Industries campus for 25 years," says Michael Kreppel of Fast Fab. "The owner contacts me, waves his arms around about what he wants and the process begins."
The newest facility is 54,800 square feet, featuring a modular rigid frame, 160 x 240 feet. The eaves are at 40 feet – the peak height of the building is restricted because it is in the air corridor at Tucson International Airport. Designers used a 1/2:12 slope roof to obtain the maximum eaves height possible.
Part of the construction called for two large Schweiss hydraulic crane doors. A 30-on crane has a lot of lifting power, but in many cases, it needs a door system to effectively do its job. The center interior modular rigid frame supports two 30-ton, 60-foot bridge cranes and an outside south bay has two 20-ton, 43-foot bridge cranes. They are located in partition walls with bayonet doors and when the hydraulic single leaf doors are open, there is unrestricted crane movement through the partition walls.
The Schweiss crane door setup looks clean and practical. The entry to the warehouse room has a larger sliding door at the bottom. Above that door is a Schweiss hydraulic crane door, measuring 61 feet, 6 inches across, by 8 feet, 10-3/4 inches deep. The other Schweiss crane door measures 44 feet, 10-3/4 inches wide by 6 feet, 11-1/2 inches deep. When the hydraulic single-leaf doors are open, there is unrestricted crane movement through the partition walls. The doors are engineered for a 115 mph wind rating and 360-volt, 3-phase electrical with remote openers. All roll-up doors in the building up to 30 feet wide are 22 feet tall.
"The reason for this setup is quite practical," says Kreppel. "You don't have to open the larger sliding door in order to get the crane where you want it from one location to another. It can save on air conditioning and heating costs and is just plain faster and more efficient. If the crane has a large load on it to move from one location to another, then the sliding door at the bottom can be opened."
Crane door figurations can vary. Some use a bifold door instead of a hydraulic door. Some industrial companies use vertically split doors at the bottom that swing outward and some prefer a sliding door below a hydraulic or bifold crane door.
This new facility, which was named the 2014 Mid-West Structure of the Year by Mid- West Steel Building Company, featured 72 skylights, LED light fixtures, brightness activated T-5 fluorescent fixtures and five-foot wall lights that extend down from the eaves on both sides. CIAD manufactured its own custom gates for the project, a one- piece metal gate with the CAID logo cut into the design.
About Schweiss Doors
Schweiss Doors is the premier manufacturer of hydraulic and bi-fold lift-strap doors. Doors are custom made to any size for any type of new or existing building for architects and builders determined to do amazing things with their buildings, including the doors.
For more information, visit www.bifold.com.