ALL Family Promotes Richard McDermott to National Service Manager
The ALL Family of Companies is pleased to announce the promotion of Richard "Dick" McDermott to national service manager.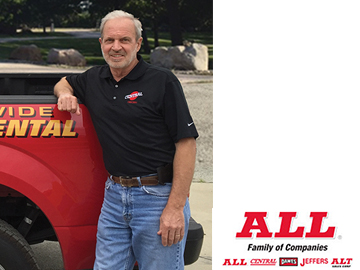 McDermott is based in Chicago, Illinois, where ALL operates as Central Contractors Service. He started with Central in 1991 as a crane mechanic and erector, traveling the country to service and assemble/disassemble equipment on the road. In 2001, he was promoted to service manager and equipment superintendent of the Chicago location.
As national service manager, McDermott will be in charge of creating and implementing a cohesive approach to the proactive maintenance and prompt repair of all equipment across the company's 38 North American branches. The new national position was created to help identify best practices that enhance the the company's culture of service. With McDermott as the central point of contact for teams across the branches, the company will have solid leadership to maintain the strong service model for which it is known.
"I have a lot of ideas I'd like to incorporate — both my own, and those from our great employees throughout the company — to help streamline and establish a universal service standard for ALL. Ultimately, that will benefit all our customers," said McDermott. "I'm looking forward to this unique opportunity and am happy for the chance to give back to a company that's been very good to me."
"Dick has been a loyal and productive part of the ALL Family for many years, with an enviable work ethic," said Michael L. Liptak, president of ALL. "With Dick as national service manager, all of our branches will be able to benefit from his years of experience and his approach to maximizing customer uptime. It's a gain for both the company and our customers to have him in this role."
About ALL
The ALL Family of Companies is the largest privately held crane rental and sales operation in North America. Thirty-eight branches have access to one of the world's largest and most modern fleets, operating under the ALL, Central, Dawes and Jeffers names. We provide rental, sales, service and jobsite analysis, helping to ensure that customers have the right equipment for the job.
For more information, visit www.allcrane.com.