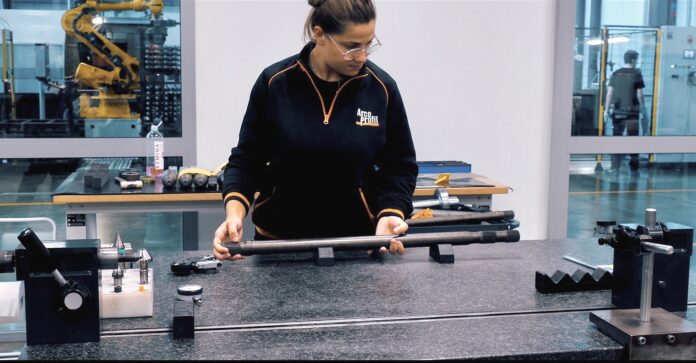 VICIVISION Measuring Machine gives Arcoprofil the ability to create a program in seconds. The ease in the process of measuring with a VICIVISION not only adds efficiency in the production but also allows the operators to be confident about the parts they produce. Arcoprofil also has automation with their VICIVISION allowing them to be mostly hands free in the process. Operators previously used a manual method of measuring, a task that was more time consuming, but now VICIVISION requires almost no influence from the operator.
"I think the advantage of having a VICIVISION Measuring Machine is I can proceed with an entire batch once the measurement is complete. The results are quick and reliable, where obtaining measurements before was time consuming and unreliable."
Any parts rejected by this machine are then reintroduced in the production cycle as much as possible to reduce waste.
ARE YOU A TURNED PARTS MANUFACTURER? CHOOSE VICIVISION PRIMA, THE OPTICAL MEASURING MACHINE FOR ALL CNC LATHES.
Arcoprofil also incorporates sustainability practices by using solar panels to reduce CO2 emissions into the environment. Sustainability in production for Arcoprofil not only allows for a reduction in environmental impact but also saves energy. The company was inspired by its Northern European customers and was one of the first companies to bring the concept of sustainability to Italy. Today, the roof of its new headquarters is covered with photovoltaic panels completely transforming its production.
"The entire roof at our facility is covered with solar panels giving us approximately 35% of the energy we consume when working at full capacity. Thanks to this photovoltaic system, we could achieve our goal of reducing CO2 by 830 tons per year."
Among the investments to reduce waste and increase production efficiency, Arcoprofil chose to invest in a VICIVISION machine for turned parts. With this innovative measuring system, the company has significantly reduced rejects.
CONTACT US FOR A FREE DEMO ON YOUR PARTS!
DISCOVER ALL APPLICATIONS!
Incorporating a VICIVISION Measuing Machine in their facility has allowed them to focus more in different areas in their company such as recruitment. Finding personell in this job market can be difficult, but like all obstacles Arcoprofil believes it is an oppotunity for new ideas and innovation.
"In response to this issue, we have thought about building an Academy for mechanical operators.
If you enjoy the job you are doing you have a desire to bring creative ideas to the company and to your colleagues because you can express yourself freely. This leads a plurality of new ideas influenced by different perspectives which is the true added value of Arcoprofil."
It is clear that it is important for Arcoprofil to invest in their future which is why they chose to have a VICIVISION Measuring Machine implemented into their production line. Find out today how a VICIVISION can benefit your facility!
SUBSCRIBE to our Complimentary Publications: