Osborn Introduces New Abrasive Discs Product Line
New abrasive discs portfolio maximizes user productivity, increases work capacity, minimizes downtime and provides functional versatility
Osborn, the world's leading supplier of finishing solutions, introduced its new line of abrasive products. The new line includes depressed-center grinding discs, cut-off discs and flap discs. All products are produced in Osborn's new world class manufacturing facility in Germany. With the addition of this line, Osborn has taken another step in solidifying its position as the number-one global source for finishing products and support.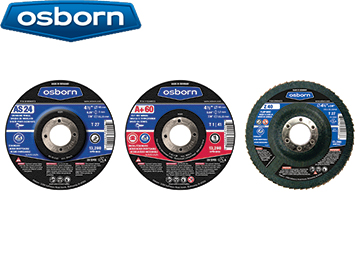 Osborn's new abrasives are engineered and manufactured using the highest quality materials and state-of-the-art equipment. Combining the best materials and process excellence with designs and formulations developed by Osborn's research and development engineers, Osborn delivers consistently superior grinding discs, cut-off discs and flap discs for users who demand the most from their abrasives products. The new line of abrasives is designed to cover the full performance spectrum, including fast cutting, heavy stock removal, long service life, application material versatility and smooth finish.
"Osborn continuously looks for ways to better serve our customers, which is why we're excited to launch our new line of abrasive products," said Spencer Maheu, director of marketing and product management at Osborn. "With our experienced field engineers and sales managers already providing at-the-spindle solutions for buffing and deburring, we identified the needs our customers had to work with a total finishing solution provider. Our investments in world-class abrasives manufacturing and our team ensures we can deliver value to our end users like no other manufacturer."
Osborn's new depressed-center grinding discs, cut-off discs and flap discs are offered in 4 and 1/2- to 7-inch diameters and include aluminum oxide, zirconia and ceramic abrasive types. The newly launched line includes 56 product SKUs. Osborn will continue to expand its abrasives offerings to fulfill the needs of the market.
About Osborn
Osborn, a unit of Jason Inc., is the world's leading supplier of surface treatment solutions and high-quality finishing tools for hundreds of industrial and commercial applications such as metal finishing, honing and surface polishing. Founded in 1887, Osborn now includes operations in 14 countries and serves customers in more than 100 countries.
For more information, visit www.osborn.com.