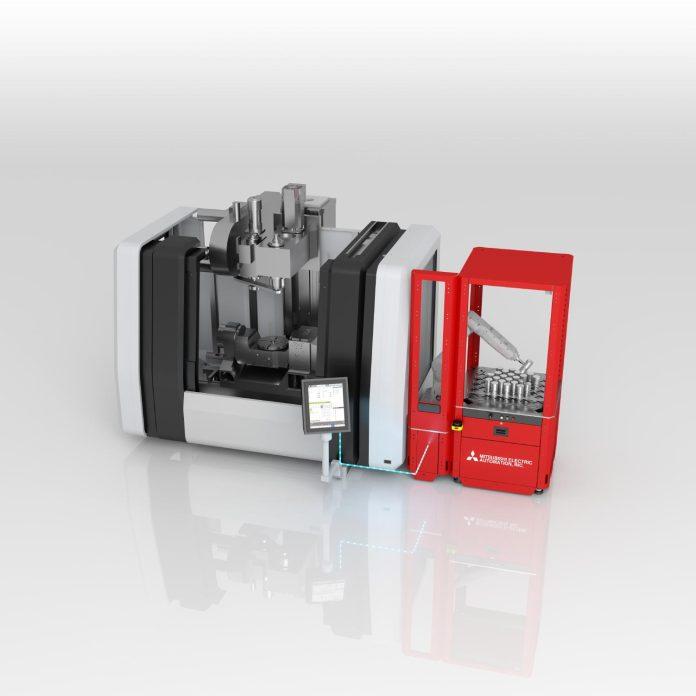 Mitsubishi Electric Automation Inc.'s LoadMate Plus™ product line is an engineered solution that is easy to implement while offering flexibility and mobility to address the ongoing challenge of labor shortages throughout the manufacturing sector. Machine tending is the process of loading and unloading parts or materials into a machine tool center, most commonly used with vertical machining center mills and turning centers (lathes) including CNC Swiss Machines.
Automation is becoming increasingly attractive to manufacturers due to labor shortages and pressures to maximize productivity. Through flexible connectivity via Ethernet and easy programming through the Direct Robot Control (DRC) feature of Mitsubishi Electric's M8 Series, machine tending can benefit customers that may not have experienced robot programmers available. In addition to DRC, almost any CNC machine can be connected to a shop floor via discrete I/O for non-M8 CNC controls from Mitsubishi Electric and other companies. Further support is available through Mitsubishi Electric trained engineers to service both robot and CNC. Additionally, Mitsubishi Electric Automation offers a 5- year robot maintenance and warranty program.
"Mitsubishi Electric Automation Inc.'s machine tending solutions portfolio provides a cost-effective answer to ongoing labor shortages and maximized productivity challenges many manufacturers are currently experiencing. Our experts work closely with your team to find and implement a turn-key solution that is seamlessly integrated, fully supported, and delivers ROI quickly" said Dave Simak, service product manager at Mitsubishi Electric Automation Inc.
About Mitsubishi Electric Automation, Inc.
Headquartered in Vernon Hills, Ill., Mitsubishi Electric Automation, Inc. is a U.S. affiliate company of Mitsubishi Electric Corporation. It offers a broad product portfolio including programmable automation controllers (PAC), programmable logic controllers (PLC), human machine interfaces (HMI), variable frequency drives (VFD), servo amplifiers and motors, control software, computerized numerical controllers (CNC), motion controllers, robots, low-voltage power distribution products, and industrial sewing machines for the industrial and commercial sectors.
About Mitsubishi Electric Corporation
With more than 100 years of experience in providing reliable, high-quality products, Mitsubishi Electric Corporation (TOKYO: 6503) is a recognized world leader in the manufacture, marketing and sales of electrical and electronic equipment used in information processing and communications, space development and satellite communications, consumer electronics, industrial technology, energy, transportation and building equipment. Mitsubishi Electric enriches society with technology in the spirit of its "Changes for the Better." The company recorded a revenue of 4,476.7 billion yen (U.S.$ 36.7 billion*) in the fiscal year ended March 31, 2022.
*U.S. dollar amounts are translated from yen at the rate of ¥122=U.S.$1, the approximate rate on the Tokyo Foreign Exchange Market on March 31, 2022.
About Mitsubishi Electric Factory Automation Business Group
Offering a vast range of automation and processing technologies, including controllers, drive products, power distribution and control products, electrical discharge machines, electron beam machines, laser processing machines, computerized numerical controllers, and industrial robots, Mitsubishi Electric helps bring higher productivity – and quality – to the factory floor. In addition, our extensive networks around the globe provide direct communication and comprehensive support to customers.
About e-F@ctory
e-F@ctory is Mitsubishi Electric's integrated concept to build reliable and flexible manufacturing systems that enable users to achieve many of their high speed, information driven manufacturing aspirations. Through its partner solution activity, the e-F@ctory Alliance, and its work with open network associations such as The CC-Link Partners Association (CLPA), users can build comprehensive solutions based on a wide ranging "best in class" principle. In summary, e-F@ctory and the e-F@ctory Alliance enable customers to achieve integrated manufacturing but still retain the ability to choose the most optimal suppliers and solutions. *e-F@ctory, iQ Platform are trademarks of Mitsubishi Electric Corporation in Japan and other countries. *Other names and brands may be claimed as the property of others. *All other trademarks are acknowledged
SUBSCRIBE to our Complimentary Publications: